The AnTuTu team knows what's up - they occasionally scour their database for results for unreleased phones and sometimes they hit pay dirt. In this case it's the Samsung Galaxy S8 and Samsung Galaxy S8+, both the Snapdragon 835 and Exynos 8895 versions.
Now, they only posted specifications rather than benchmark results. We already have an idea of what to expect from the S835 and there's suspicion that the Exynos model will be faster. Anyway, back to AnTuTu.
Note the screen resolution. One unit reported 1,080 x 1,920px while others show 1,080 x 2,220px. No, Samsung hasn't gone back to a 1080p Super AMOLED, the company recently switched to rendering the interface at 1080p (even for the Galaxy S7). The first resolution seems to be a compatibility mode, in case apps can't handle the wider aspect ratio (18.5:9). We already saw the LG G6 offer such a mode.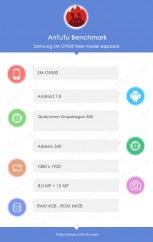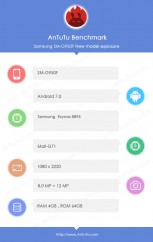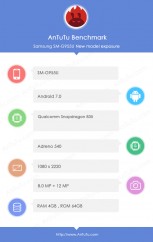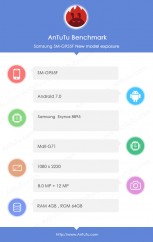 Galaxy S8 (Snapdragon) • Galaxy S8 (Exynos) • Galaxy S8+ (Snapdragon) • Galaxy S8+ (Exynos)
Another thing to notice is the storage - all units report 64GB. This doesn't necessarily mean anything, but Samsung could have increased the base storage (about time, 128GB isn't that uncommon anymore).
The RAM stays at 4GB, though there's talk that Chinese units will have 6GB to be more competitive with local brands.
There are no surprises in the camera department - 12MP main, 8MP selfie, just as the rumors foretold. As a reminder, the Unpacked event is this Wednesday. We'll have live impressions of the phone and will fill you in on all official details - here's what we know unofficially.
?
No, there's not "suspicion" that the exynos will be faster. The more recent GeekBench results for the msm8998 are pretty consistently in the 2050/6400 range. However, please maintain the narrative you wish.
ADVERTISEMENT