Update: The Galaxy S8 Oreo beta program is now available in several European markets as well, including Germany, Poland, and France. So now it's highly likely that Spain and China - the remaining second wave countries - will also get it sooner than later.
Original story:
It looks like the Samsung Galaxy S8 Oreo beta program has entered its second phase, as the beta build is now available for units in India.
You can register through the Samsung Members app (Home->Notices->Register for Galaxy Beta Program). Once that is done, you can download the update by heading to Settings -> Software update -> Download updates manually.
The update weighs in at around 1,395MB.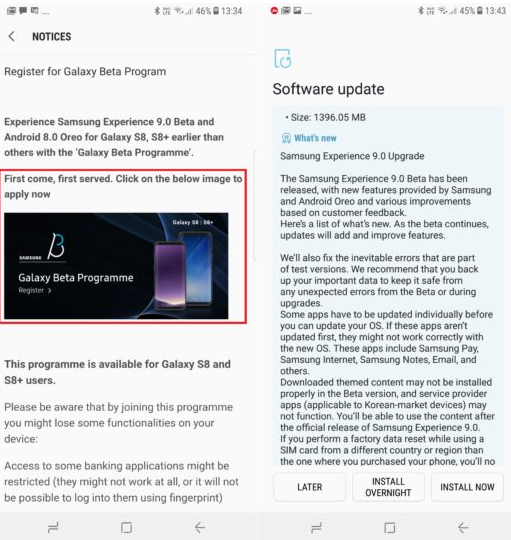 It's worth mentioning that Samsung hasn't yet officially announced that this is the second phase for the Galaxy S8 Oreo beta program.
Previous reports said the second wave of countries would include Germany, Spain, France, Poland along with India and China. There's currently no information on whether or not the program has been expanded to these other regions as well.
p
I was recived a beta in Germany DBT firmware :)
D
how very true... we cant pay such a steep amount for a premium experience only to be treated like "ding-bats" by beta testing some bugy os people. let programmers do thier work and we enjoy the work they did so that we dont fidle with bootloops and p...