The Samsung Galaxy S III rumors keep coming in and different sources are starting to agree on some key specs. You should still take what the rumors say with a pinch of salt, but these seem slightly more credible than most of the previous ones.
An anonymous tipster told GSM Helpdesk that the Galaxy S III will measure 131 x 64 x 8 mm and weigh 125g (the Galaxy S II is 125.3 x 66.1 x 8.5 mm, 116 g).
The screen will be slightly smaller than previously rumored - 4.7" with 720p resolution - and will use SuperAMOLED Plus HD technology. That's regular RGB matrix in 1280 x 720 pixel resolution.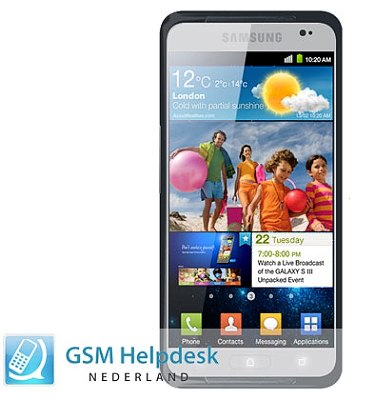 The camera on the Samsung Galaxy S III is tipped at 12MP with 1080p@60fps video recording. The camera will reportedly also feature slow-mo recording, so the 60fps might be for that mode rather than producing 60fps clips.
As far as CPU goes, the anonymous tipster confirms the quad-core at 1.5GHz, but doesn't really add anything to what the Samsung exec said a few days ago. The Galaxy S III will have 1GB of RAM (same as current model) and 32GB of built-in storage, according to the tipster.
The connectivity on the S III should see the adoption of dual-carrier HSPA for downlink speeds of up to 42Mbps, but uplink is reportedly still limited to 5.76Mbps. There are other specs mentioned - Wi-Fi a/b/g/n with Wi-Fi Direct, Bluetooth 4.0, NFC and HDMI out (likely over MHL). None of those comes as a big surprise, either.
One final tidbit is the launch date - set for May 22, but Samsung might pull it forward to April. Another unrelated source agrees on the date - the Galaxy S III might see its launch in China pulled from May to April.
J
and now you can take that comment back :)
?
Hmm kinda ironic when I think of all the Samsung fanboys insulting iPhone 4 upgrade to iPhone 4S. Seems like Samsung are doing exactly the same thing here. Dont really see anything out of the ordinary. In fact, quite underwhelming if you ask me.
C
3Mt9pd im a daily commenter
ADVERTISEMENTS