First look
Samsung Galaxy Tab 8.9 preview: First look

TouchWizzed music player
Samsung have blessed the Galaxy Tab 8.9 music player with a custom interface, which we find more functional than the stock Android one, even if it lacks the impressive cover-flow-like browsing.
You can now sort your tracks by album, artist, song, genre, folders, composer or year. Playlists are here too and there are automatically generated most played and recently added lists. Naturally, there's also a search option, which will be greatly appreciated by those with large music collections. It gets activated by pressing the magnifying glass icon in the upper right corner.
When you select a specific album (or a group of tracks based on any filter) the interface splits into three screens - the filters on the left, the album in the middle and the now playing track on the right.
Tapping on the song name brings you to a dedicated now playing screen where you have a repeat (one or all) and shuffle options as well as a setting to add the currently playing track to favorites.
Equalizers are available too, along with various sound effects like concert hall, music clarity etc.
Finally, if there is a track playing in background a dedicated row appears in the notification area showing its name. Strangely enough though there are no quick pause or skip controls right there so you need to open the music player every time.
Video player let down by the codec support
Stock Android Honeycomb doesn't have a dedicated video player app so Samsung decided to write one of their own for the Galaxy Tab 8.9. Allowing for thumbnail, list and folder view modes it's a pretty functional application. There's also searching so even if you fill that ample storage with short clips you should be able to find the one you need.
Unfortunately the codec support is not much better than what we saw on the XOOM. With DivX and Xvid nowhere in sight you will have to either convert all your videos or get a third-party app for playing those, which will inevitably harm performance.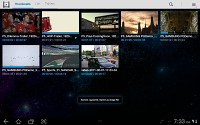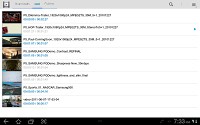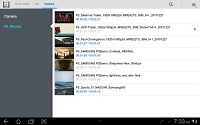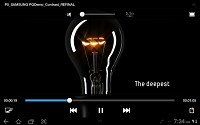 The video player is nice, but codecs support is limited
Still if you stick to MP4 videos you might be glad to know that the Galaxy Tab 8.9 easily does even 1080p videos. If you get the TV-out adapter the slate might make for quite a powerful home multimedia center.
Web browser does a splendid job
Samsung didn't bother with too much customizations for the Galaxy Tab 8.9 web browser, but then again this is one of the best parts of Honeycomb so it's all cool. Even at this early stage browsing on the Tab 8.9 is an enjoyable experience. The interface is neat and simple and the full Flash support is more than welcome for experiencing browsing as it should be.
The tabs are kept in a bar on top, much like on a desktop browser and opening a new one is as easy as clicking the plus sign on the right. The address bar and search bar are, as usual for Android devices incorporated in a single field, which scores another point for the Tab 8.9.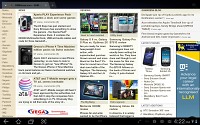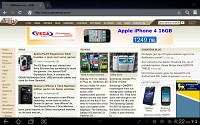 The web browser is nice and smooth and does Flash too
Bookmarks have their own screen and they can be organized in folders for easier navigation. History uses a split-screen interface letting you check the pages browsed today, yesterday or over the past week. There's also a most visited tab.
Synchronizing the browser with your desktop Google Chrome doesn't need any extra software – you check a box in the settings menu and you are done.
There's also auto-complete for forms and passwords and you can pick the default zoom level for the browser. Not that altering the zoom is that hard with pinch-zoom, naturally, being supported.
The only thing that is missing here is the alternative interface that Motorola XOOM offered. We are talking about the quick access to your page controls (back, forward, refresh, bookmark etc.) by a swiping gesture performed near the right edge of the screen.
Flash performance on the Galaxy Tab 8.9 was about identical to what we saw on the XOOM, which is hardly a surprise given the identical Tegra 2 chipsets inside. This means that you will be able to watch 360p and 480p Flash videos, but at least at this stage 720p or higher resolutions are out of the question.