S-class coupe
Samsung Galaxy Tab S 8.4 review: S-class coupe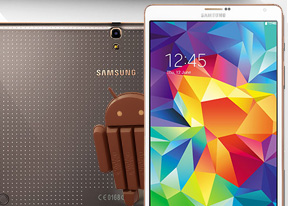 Web browser
Samsung Galaxy Tab S 8.4 comes with the stock Android browser customized by Samsung and Google Chrome. Both support Multi-window.
The interfaces of both browsers are virtually identical. Tabs are kept in a bar on top, much like on a desktop browser, and the address bar and search bar are incorporated in a single field (with a voice input shortcut).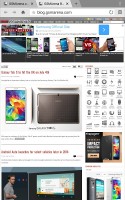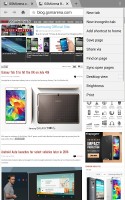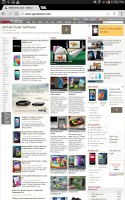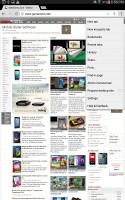 Samsung browser and Google Chrome out of the box
Both browsers feature incognito tabs and request desktop view. Chrome has a Google-powered feature that sync open tabs between devices that run Chrome, but Samsung has integrated a similar feature into the stock browser it goes through your Samsung account).
The new tab section for each browser is dominated by thumbnails of the sites you visit most often. Bookmarks are also viewed as thumbnails.
Flash is no longer welcome as even the stock browser has dropped support for it.
Additional apps
The Android calendar has been replaced with S Planner (as usual). It offers great and user friendly interface and does an excellent job of keeping your events organized.
The usual suspects - Flipboard, Dropbox (with 50GB for two years bonus), and Evernote are on board too. Samsung has neatly arranged all the premium bundled content into a section dubbed Galaxy Gifts.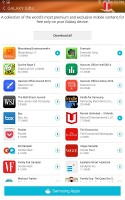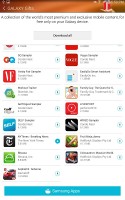 You get a lot of freebies with the Samsung Galaxy Tab S 8.4
Samsung WatchOn is on board too. It utilizes the built-in remote control in a superb fashion and seamlessly pairs with you TV and cable box.
The productivity apps are from Hancom Office - Hword, Hcell and Hshow. They feature interfaces similar to the desktop Microsoft Office apps, meaning they are busy with tons of buttons. While they can be operated with a finger, we get the feeling it would be more comfortable to use a mouse with those.
Cisco WebEx handles conferencing and cam even share what's on your screen. It is one of the commonly used conferencing clients in the corporate world.
Bundled subscriptions with the Samsung Galaxy Tab S 8.4 include Bloomberg Businessweek, The Wall Street Journal, The Economics, and The New York Times. Marvel Unlimited on the other hand, supplies you with free comics during your spare time.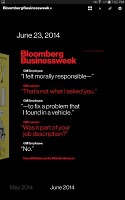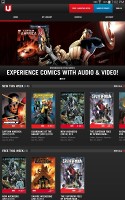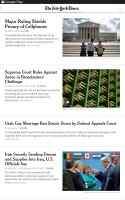 Some of the bundled subscriptions
Paper Garden is an app which debuts with the Galaxy Tab S family. It is a product of a partnership between Samsung and the publishing powerhouse Condé Nast. The app features a storefront with access to the all publisher's titles which have been specially optimized for the Super AMOLED display.
If you're going to connect a keyboard and mouse to the Galaxy Tab S 8.4, you can just as well launch the Remote PC app, which does just what it says on the tin. It gives you remote access to your home or office PC, which works rather well on the tablet's high-resolution screen.
Other apps are included as well, like Bitcasa, which offers a lot more storage than Dropbox - a whopping 1TB - but the subscription is for three months only. Note that the RemotePC service is also subscription based (you get 2 years) and so are Evernote (3-12 month subscription, market dependent).