Never miss a beat
Samsung M3200 Beat s review: Never miss a beat

2 Megapixels just for the sake of having it
Samsung M3200 Beat s has a 2 megapixel camera with maximum image resolution of 1600 x 1200 pixels. Sadly there's neither autofocus, nor flash.
The camera uses the usual non-smartphone interface and follows the current trend of displaying settings with icons in a toolbar at the bottom of the screen, while options appear as popup menus. The settings are extensive and include picture size, shooting mode (single, multi-shot and mosaic shot), color effects (black and white, negative, sepia, etc.), and white balance. The camera can be used in portrait mode only.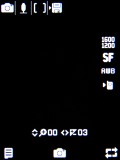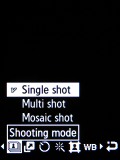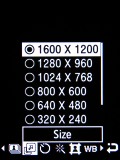 The camera viewfinder and some of the available settings
The image quality is barely passable but imaging is hardly a priority in the music-centered M3200 Beat anyway. There seems to be a bit of that aggressive noise suppression we saw in the rugged B2700.
Here are some camera samples produced by the 2 megapixel camera of Samsung M3200 Beat s.
Finally, we come to the video recording capabilities of the camera. Samsung M3200 shoots video in the so-called Camcorder mode. The user interface of the camcorder doesn't differ from the one of the still camera except for some of the available options. What you get is QCIF resolution at 15fps, which is only good for use in an occasional MMS.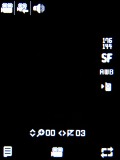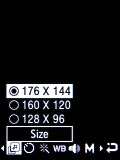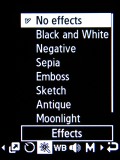 Camcorder viewfinder o camcorder settings on toolbar
A separate list of settings is, as usual, in charge of exposure metering, shutter sound, etc.
Connectivity and Web browser
With Samsung M3200 Beat you can count on quad-band GSM/GPRS/EDGE support. In addition, the slider also supports USB and stereo Bluetooth, both versions 2.0. A 3.5 mm audio jack completes the wired connectivity options.
Samsung M3200 Beat s offers a scaled down NetFront v3.4 web browser, known from other Samsung phones. It has basic functionality, lacking important features like landscape/full screen views, and struggles with elaborate pages.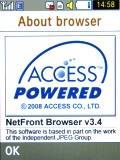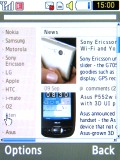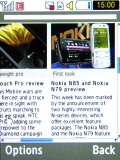 NetFront v3.4 web browser with basic functionality
Among the few nice features are the mini map, page size, and search-in-page option.