Samsung will be killing the remaining Note7 units in Korea and so will do T-Mobile in the USA. The next carriers to proceed with the kill order are AT&T and Verizon on January 5, and Sprint on January 8. Now it seems Samsung Malaysia will be doing the same with the phablet on December 31.
The Galaxy Note7 users in Malaysia, who didn't return or exchange their phablets and decided to keep using them, are now receiving push notifications for a final power down. The phone's battery will be powered down to 0% by 9PM on December 31. There is nothing the owners can do to stop that, so they should backup their data immediately and return the phone.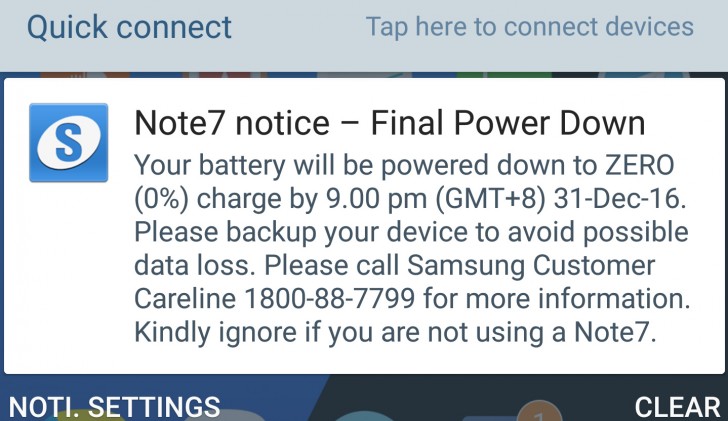 The Samsung Galaxy Note7 keepers in Malaysia are still eligible for a full refund or a Galaxy S7 edge exchange, so they should probably do that.
We guess Samsung will proceed with killing the active Note7 worldwide in the upcoming months or weeks, so if anyone of our readers is still using such device - they must exchange it as soon as possible.
?
Wait, weren't these the same people hating on other brands, and calling them sheep?
?
So, you thought that you own "your" phone? think again! Next is your car. the corporations will decide where you are allowed to go and where not.
?
no its not. read your terms and conditions of the device.. you give them permission to do what they like and take any data they want. (same for all smart phones)