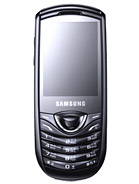 s
hi have this phone last two month , and i am never seen like this phone features , m power is wesome
p
nice piece by look but poor in camera and also blutooth is of poor quality it hangs every time you send any data.
K
hello friends

plz help me out, as the specifications of this handset are showing that there is 3g but no gprs.
what does this exactly mean?
internet? facebook? will work na?
i am in a hurry to by new phone
please clear my query as soon as possible please
a
Baharul, 19 Mar 2011wt abt d battery back up?I am using this phone last 6 month and found the battery backup is good 4-5 hrs. continues talking but hanging when sending large file via Bluetooth. nice build,nice sound quality,good camera,No background playback of music player.Internet feature is not working in 1x network.
A
Hi Guys, I am willing to buy this handset. looking for good battery backup and excellent voice quality.
Please guide, is this handset good. M using reliance connection.
S
My bro having this set. Ya m agree with u all. That little issue in this phone. But overall good handset for cdma users. Specially phone modle...
v
i have this phone for the last 1 month, it is really a good mobile phone in CDMA category, but it has a normal problem that music player can't minimize when it is on. that is really bad.
P
i have this phone for last 5 months, but i never faced any restarting problem while transferring file through bluetooth.

overall it is excellent phone. only problem is you cant minimize the music player i.e. you can do anything while listening music.
N
Dear Members,

I would like to informed u about this poor mobile. There is some manufacturing issue in Bluetooth transfer. When u receives any 11 or 15 mb file from other mobile. Samsung 239 has restarted. But without insert Reliance sim card its Bluetooth transfer working fine. My one friend also has same mobile and getting same issue on that.
I have already told all Samsung team (Customer care and Indore head office) about that issue. And also put many mails at Samsung Email id. After all follow-ups, Samsung team rebus my money Rs.4800.

Regards,
Naveen Ahuja
Gwalior
Mobile-9300060570

Total of 71 user reviews and opinions for Samsung Mpower TV S239.