Final words
There is a lot to like in the Samsung Rugby Smart. The smartphone is tough, yet extremely pocketable. Its Super AMOLED screen is perfect for outdoor activities, and the battery performs really well.
On the software side of things, there are no complaints either. TouchWiz 4.0 provides one of the best Android Gingerbread experiences around. Sadly, we can't tell you if Ice Cream Sandwich will make it to the device though.
Of course, the hardware of the device could have been a lot better - an extra CPU core would have made the device a lot more future proof. The same goes for its looks and retail package.
The Samsung Rugby Smart's retail price is $99.99 with a two-year commitment on AT&T. You can easily find a dual-core Android device for this kind of cash. None of the options however, will be even remotely close to the Rugby Smart in terms of ruggedness.
Speaking of rugged devices, the only alternative to the Samsung Rugby Smart, which is officially offered by a wireless carrier, is the Casio G'zOne Commando for Verizon Wireless. Curiously enough, the smartphone offers an ancient spec sheet, combined with far from great design, to go with a higher price tag. Unless you are a die-hard fan of the brand, or someone forced you into it, we suggest that you stick with the Samsung.
You can also take a look at the Sony Ericsson Xperia active and Motorola Defy+. Both devices can be purchased commitment free for around $350, depending on the online seller of tour choosing. Keep in mind however, that the Samsung offering is better specc'd than both.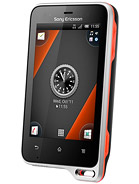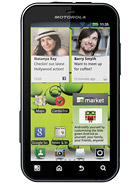 Sony Ericsson Xperia active • Motorola DEFY+
Samsung have brought the Rugby Smart to the market with the clear knowledge that it won't sell in millions. As a niche product however, the handset is easily the best in its class at the moment - a fact, which will certainly help the device find its followers.