Organizer and apps (continued)
Finally, the Samsung S5230 comes with an office document viewer that supports Word, Excel, Powerpoint and PDF files. It's an application developed by Access and is one of the nicest additions to the software package.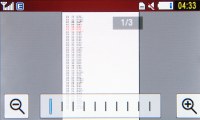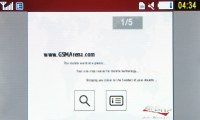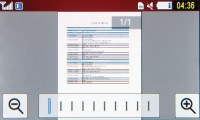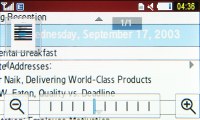 Samsung Star has no problems handling office documents
The documents viewer is quick enough when opening files; however, panning is rather slow. The document viewer also works in landscape mode (rotating the screen automatically), which makes reading a little easier.
Finally, even though the Samsung S5230 doesn't have a GPS receiver built-in, it comes with the preloaded Google Maps app.
Two and a half games
Typical of Samsung recently, the S5230 offers a bunch of trial games. But this time, surprisingly, Samsung decided to add a couple of playable games, namely the Bubble Popper Deluxe and the WideStar.
Bubble Popper is more like a game and a half since it includes a demo version of the Party Island game. Leaving the demo aside, in Bubble Popper, as the name suggests, you have to pop all bubbles before they reach you. The title doesn't make it sound like itvery tempting but if you have time to kill, it's an enjoyable way to do it.
As for WideStar, you have to align 3 or more symbols of a kind to make them disappear. The more of them that disappear, the more points you get.
Also aboard is the well-known Tumbling dice app, which uses the built-in accelerometer. Shaking the phone for an occasional roll of the dice is a fun way to try your luck, and while it's free, it's not practical or particularly entertaining.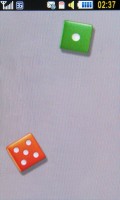 Tumbling dice is a nice acclerometer-based app, but not a game
Final words
A couple of days ago Samsung announced they're selling a million Stars a month and expect sales to reach a total of 10 million units by the end of the year. To some it might sound too ambitious, but considering the nice touchscreen package and the low street price (below 200 euro), those projections are beginning to look more and more achievable.
You're free to feel whatever you like about statistics but users have the last word and that's that. In fact, there really isn't much to complain about at that price point. The design is passable, the screen just fine and the feature pack is good enough. And when it comes to competition, there aren't many devices like this out there (though expect that to change in the near future).
The only direct competitor is the well known LG KP500 Cookie. The compatriot rival sports similar features, looks cooler and costs way lower. However, it's only a matter of time for the price of the Star to drop to that level and for the choice to become hard again.
In a month or two there will be one more handset to try and snatch part of the Star's market share. Of course, we are talking about one of the latest XpressMusic devices - the Nokia 5530 XpressMusic. Its price tag is heftier but the extra cash gets you Symbian OS, Wi-Fi support, a 3-megapixel autofocus shooter and solid music pedigree.
To wrap it all up, the Star is cruising towards platinum sales. That it takes a Symbian smartphone to put the brakes is nothing short of a compliment. The price bracket does not imply anything overwhelmingly impressive but as long as that sales meter is ticking the starlet is very well on track.