A pretty decent camera indeed
The Samsung S8000 Jet is equipped with a 5 megapixel autofocus camera that can take photos with a maximum resolution of 2560 x 1920 pixels. A dual LED flash is supposed to improve the low-light capabilities of the handset but as one might expect it hardly has a spectacular effect.
The camera also has a number of nice built-in features including the Samsung proprietary wide dynamic range option, the anti-shake digital image stabilization, geotagging, face detection, smile shot as well as viewfinder gridlines.
The camera interface is nicely touch-optimized and is certainly one of the most comfortable camera interfaces on a touchscreen device so far. The only complaint is that the auto focus settings are not visible in the viewfinder but are instead buried in the 3rd screen of the settings menu . Since this is one of the most frequently used controls it's pretty strange that Samsung didn't give it a more convenient place.
The camera snaps photos quite quickly and is ready for the next photo without much delay. Disabling the automatic preview reduces the shot-to-shot time even further and makes taking photos with the Jet a very enjoyable experience.
As far as the image quality is concerned we are very pleased with the Samsung S8000 Jet camera results. The images have nice contrast, precise colors and good amount of resolved detail. The noise suppression algorithm is very mature, resulting in relatively noise-free photos, without too much fine detail loss. It still eradicates all detail in fine foliage, for example but we have seen cameraphones do far worse. Here go the samples so you can see for yourselves.
Synthetic resolution
We also snapped our resolution chart with the Samsung S8000 Jet. You can check out what that test is all about here.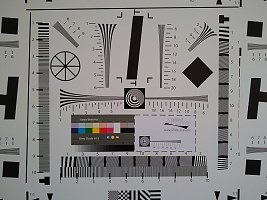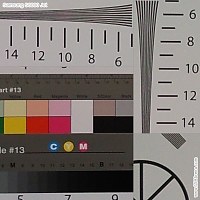 Samsung S8000 Jet resolution chart photo • 100% crops
As you can see the Samsung S8000 Jet fails to deliver as much detail as the Nokia N97, while its noise reduction is obviously more aggressive. Still the difference between the two devices isn't too great so it probably won't even be noticeable in most cases.
Nokia N97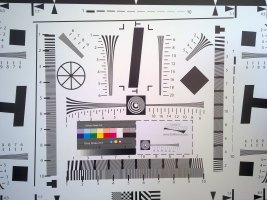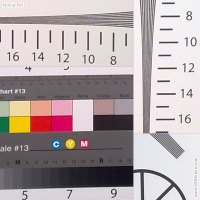 Nokia N97 resolution chart photo • 100% crops
Video recording - D1@30fps
The Samsung S8000 Jet can record D1 videos at 30 frames per second but unlike some phones where the video looks choppy even at 30 frames (some of the frames are interpolated so it's not really 30fps), this is pretty decent with vibrant colors and high levels of detail.
Unfortunately the compression applied to the videos is a bit too strong, even at the highest quality setting, resulting in some artifacts.
Here goes a sample video for you to check out.
The S8000 Jet is also capable of recording slow motion video shot in QVGA resolution at 120fps. The quality of those isn't really impressive however with even more artifacts visible.
The general camera performance of the Samsung S8000 Jet is good, although of course it is no match for the Samsung i8910 Omnia HD or the M8910 Pixon12 imaging monsters.
Connectivity packs it all
The Samsung S8000 Jet is perfectly usable worldwide with its quad-band GSM support. The 3G network compatibility is not as complete with just the 900/2100 bands supported. The phone provides 3.6 Mbps HSDPA speeds.
Bluetooth is also available and comes with A2DP, which is no news on even lower end phones.
The microUSB port is quite welcome as it's a lot more popular than the proprietary port the previous gen Samsung phones used to come with. You can set up the phone to connect in mass storage mode or PC suite mode (Media player) or to prompt each time it's connected.
In mass storage mode it gives access to the memory card but not to the internal memory and you cannot use the phone for calls or data in this mode.
To round it all off, the Samsung S8000 Jet is WLAN enabled. It sports a nice Wi-Fi manager that makes it easy to add an access point to your list, while throwing some nice graphics in the same time. The problem is that you need to update each application's profile every time you want to use it with a different access point.
This means that if you are at work and you have set your browser to use your office WLAN, you will have to reach for the profiles when you go home and switch to your own network, or if you want to use it over 3G. We really hope Samsung will come up with a more intuitive solution to automatically handle the networks currently available.