Samsung officially showed off a new Exynos chipset with four Cortex-A9 cores and a new GPU at the International Solid-State Circuits Conference. The new chip boasts both performance and battery improvements.
It's built using a 32nm process rather than the 45nm process used for current Exynos chipsets. Each CPU core can be switched off and even half of the 1MB L2 cache can be disabled to preserve power.
According to Samsung, this results in 26% performance boost compared to their current Exynos chipsets. Energy saving for CPU-bound tasks goes up to 45%, while rendering 3D takes up to 48% less energy.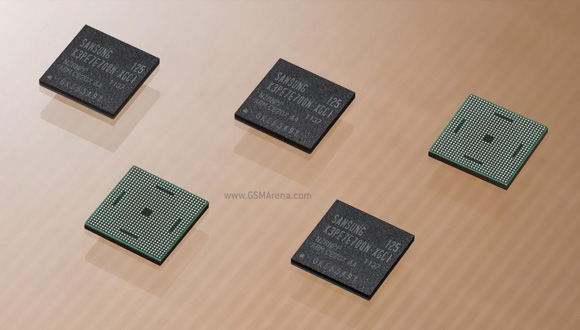 The new chipset uses the latest GPU (presumably from the Mali series), with one geometry engine and four pixel processors.
The chipset will be available with clock speeds for the processor ranging from 200MHz to 1.5GHz. There's support for both LPDDR2 and the newly announced LPDDR3, and a dual-core version of the chipset is planned, too.
Samsung will be showing off their new Exynos at the MWC and we might even get to see a product with it, but we'll have to wait a couple days more to find out.
g
Samsung is known for its unprediciment and hear this galaxy tab 2 will have this chipset samsung again will stop production and push nvidia tegra 3 chipsets into them. Just so they can use the savings in producing these soc invested in creating yet a...
S
Unless Apple beats them to it... rumors have been going around for over a year now that the next iPhone will at least have a thinner bezel.
d
i love how u have absolutly no idea how pcu processors work :D
ADVERTISEMENTS