Applications are abundant
As for the additional applications, Sony Ericsson Elm comes with AccuWeather, Calendar Wallpaper, Checkbook, EcoMate, GreenCalculator, Grocery List, NeoReader, Standby World 3D, Tracker and YouTube.
The AccuWeather application gives you up-to-date weather information for locations of interest. Current conditions overview and a three day forecast is available for a great number of cities around the world. You should bear in mind that the data is downloaded in real time so data charges apply. Not that we can think of any other way for the application to work but we still feel a warning is due.
The Calendar Wallpaper puts an analog clock on the wallpaper. Using the built in accelerometer, you can switch to other views – calendar, tasks and last photo.
The Checkbook allows you to create different accounts, enter a balance and start managing them (income and expenses). There is also a graphical chart for easy tracking your transactions in time.
The EcoMate is an educational app. You have a pet (panda in this case) and you must answer a few questions every day to support its virtual habitat.
The GreenCalclulator and Grocery List speak for themselves, while the NeoReader is a barcode scanner.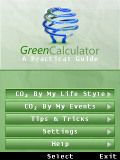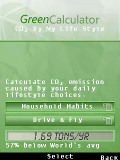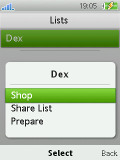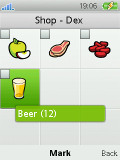 GreenCalculator • Grocery List
The Standby World 3D is a nice application with readings for up to three different time zones around the world. The background changes as day turns into night in the selected locations. You can set this app as a default background.
The last app is the Tracker. It requires GPS data and tracks your route as you exercise – jogging, running or bicycling. You can view your previous routes as well as a summary, which includes things like Total, Average or Best lap time.