This article is outdated. We have already published a full review.
User interface is nice and snappy
Sony Ericsson G502 is supposed to be a midrange offering but, like Sony Ericsson K660, its interface is closer to the high-end. The optimized Media Center, the Walkman 3.0 music player, and the Cyber-shot SE v2.0 camera user interface, along with Flash Lite themes support, are all on board.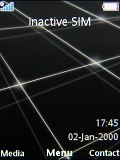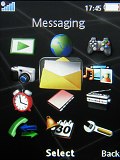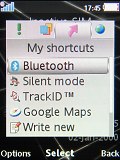 User interface of Sony Ericsson G502
Some of the other available features include TrackID, Smart Search, the NetFont 3.4 browser. Location services, Manage messages and message categories complete the set of niceties. Generally, Sony Ericsson G502 stays faithful to the company feature phone menu styling, and has most of the high-end features covered (save for the ones that require an accelerometer, of course).
The three soft key layout is now becoming pretty much standard for all Sony Ericsson devices and the G502 makes no exception. We really do prefer it over the two-key solution.
As far as customization is concerned, Sony Ericsson G502 supports those cool looking Flash Lite themes. With our unit we got 5 themes preinstalled and those are all pretty eye-pleasing.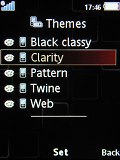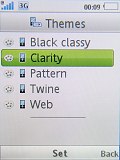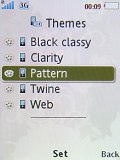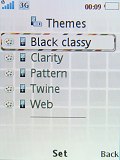 The other four preinstalled themes
Multimedia
The Media menu lists the Photo, Music, Video, and Settings icons. The current pick is highlighted in strikethrough manner and the count of included files is displayed. You can opt for the menu showing in portrait or landscape mode, depending on your preferences.
Sony Ericsson G502 features the really cool Walkman 3.0 player. It has support for a huge number of audio formats such as: MP3, AAC, AAC+, E-AAC +, WAV, WMA, M4A, iMelody, XMF, RealAudio 8 and MIDI file formats and sports the trademark Sony Ericsson MegaBass equalizer preset. Skeptical as we are about the need of it, we still needed to mention its presence.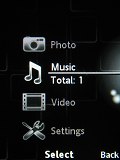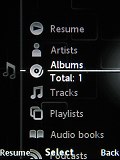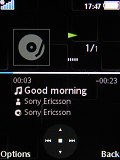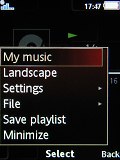 Walkman 3.0 music player interface is one of the best we have seen
In Media center you are able to sort music by filters including artist, album, tracks, playlists, podcasts, etc. The player can naturally be set to run in the background.
The video player is accommodated in the media center as well. It supports fast-forwarding and rewinding as well as playing clips in slow motion. It has landscape mode, as well as settings for video size as original, auto fit and fullscreen modes.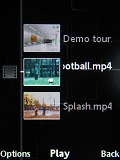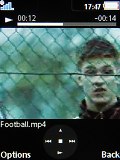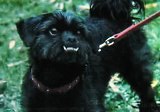 Video player even allows playing videos is slow motion
The integrated FM radio of the Sony Ericsson G502 has memory for 20 preset stations and supports RDS. TrackID is available too.