This article is outdated. We have already published a full review.
UI: (almost) nothing new under the Sun
The Sony Ericsson Hazel user interface is almost the same as in the latest manufacturer's phones we recently reviewed. It is customizable by Flash Lite themes and is sprinkled with smooth animations all over.
The interface offers many options and settings accessible at great speed - adding to an uncompromising user experience. In fact the latest Sony Ericsson UI is one of the prettiest and most customizable among the feature phone competition.
The homescreen is the same as you already know it. The same goes for the menu. As before, you can choose between four menu layout options - theme-dependent, 3 x 4 grid of icons, rotating view and single icon view.
The interface is visually appealing and snappy. Auto rotation is enabled in the Media Center and is generally quite responsive. There's no noticeable lag involved but we guess that's to be preferred over an over-sensitive accelerometer that can often play up.
The only news when it comes to the interface is the promised updates in the field of social networking. Hazel isn't the first Sony Ericsson device to come with some sort of support for such services but it's the first (along with the Sony Ericsson Elm) to offer you access not only to your Facebook account but also to those at MySpace and Twitter.
Thanks to Hazel's widget manager you can have those apps running on your homescreen.
As we've already mentioned, our preview is based on a pre-release Hazel sample. And, unfortunately, it doesn't have any of the social networking applications so you'll have to wait for the full review to hear our say on how they fare.
For one, you can always jump over to our Sony Ericsson C901 review to see how the Facebook app integrates on the homescreen.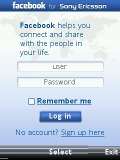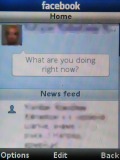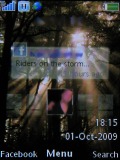 Facebook app running on the Sony Ericsson C901
The multimedia department is also the same as before (it's quite good as it is). As you can see from our recent Elm preview, nothing has changed since the Yari.
You can leave your camera at home
The Hazel sports a 5-megapixel autofocus snapper with LED-flash. For a pre-release unit the Sony Ericsson Hazel camera does a pretty nice job.
Face detection, Smile shot and geotagging are all on board (no BestPic shooting mode though).
The image quality is nice as well. There is still room for improvement - images suffer from too much noise and oversharpening. Contrast has to be improved, too. But we can safely assume those will be improved in the final retail version.
Here are the Hazel camera samples:







Sony Ericsson Hazel camera samples
Believe it or not (we didn't at first), Sony Ericsson Hazel is capable of recording VGA clips at 30fps. As you can see from the sample video, everything is nice and fluid and although there are some visible artifacts, the overall quality is satisfying.