Phonebook, as good as it gets
The phonebook interface is simple and straightforward. Either the SIM or the phone contacts can be set as default for the phonebook. Both lists cannot be displayed simultaneously. Otherwise, you can choose to use the handy option of duplicating any new contacts that you save in the phone's memory to the SIM card. The maximum capacity of the phonebook is 1000 entries but you can save up to 2500 phone numbers - no change here. Contacts can be ordered by First or Last name. They are searchable by gradual typing of the desired name.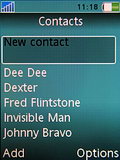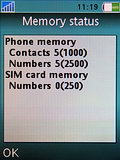 Contacts list • Free memory status
When adding a new contact, there are five positions available for phone numbers: Mobile, Home, Work, Fax and Other. This is the first tab of fields for the new contacts. The second one is for email and web addresses. The third is for assigning a picture, a custom ringtone and a voice command. The fourth goes for Title, Company and postal address. The last, fifth tab, is for additional information and birth date. Upon adding a birth date, you're prompted to choose whether to add it to the calendar and set a reminder.
As most other Sony Ericsson handsets, the Sony Ericsson T650 has a Voice Dialing feature. You can activate it with a longer press on the down volume key. In order to use it though you would have to prerecord your voice commands in a very quiet environment.
Call management
The Calls log is divided into four different tabs. They are: All, Answered (Received), Dialed and Missed. The tabs can take up to 30 call records altogether, which are shared between the separate tabs. When there are several calls made to a single contact, only the last call gets recorded.
Texting comes easy
All messages, except emails, use one Inbox. No matter what kind of message has been received, it goes to the common Inbox. Only email messages have their own separate Inbox. The phone also offers an RSS-feed reader, using the NetFront web browser. When typing a message, there is a character counter, which would alert you when you get close to the 160-symbol limit. The T9 dictionary goes without saying.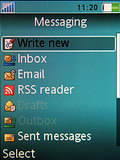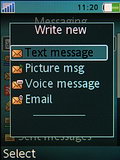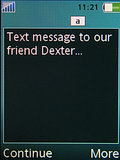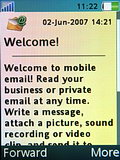 Messaging menu • Write new • typing a SMS •reading an email
Excited about the music player, aren't you?
Sony Ericsson T650 music player supports MP3, AAC, AAC+, E-AAC+, WAV, WMA, M4A and MIDI file formats. It is the Walkman player version 1.0 used in Sony Ericsson K800 and K810 for example. In fact, most Sony Ericsson W-series handsets feature the same music player with several exceptions. The only difference between theirs and this one is that the latter doesn't feature the MegaBass equalizer preset. Since Sony Ericsson T650 supports multi-tasking, the player can be set to run in the background. Sound is nice - as long you're using the player with a good headset, that is.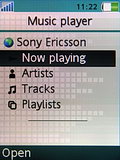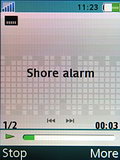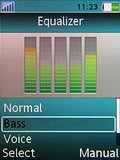 Music player menu • The Now playing screen • player options
The video player of T650 is decent and videos can be watched in landscape mode. Unfortunately you cannot fast-forward videos. The player can zoom in your video up to 32x, in an attempt to make amends.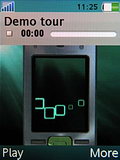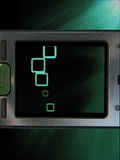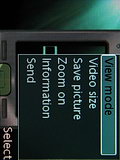 Playing a video: portrait and landscape modes
The integrated FM radio of the Sony Ericsson T650 has a memory for 20 preset stations and supports RDS.
| | |
| --- | --- |
| The interesting thing about the picture browsing is the Timeline view, which allows you to filter the pictures according to the month they have been taken in. After you specify the month, you could even choose the exact date. | ADVERTISEMENT |
Picture perfect
There is nothing new in the file browser department as well. It allows you to mark files (single or multiple), copy them, move them, and also create and delete folders as you please. There are three tabs of file lists - one for the phone memory files, one for the memory stick files and one shared for all files. By selecting a given tab you can filter the files shown. The integrated memory of the T650 is 16MB. There is also a Memory Stick Micro M2 memory card slot. The size of the memory card shipped in the retail package should be 256MB.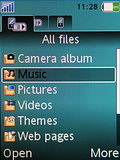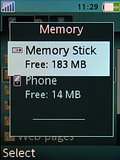 The phone memory tab • available memory space
Browsing your pictures is as easy as ever - you could do that in a list view with or without thumbnails. You can also view your pictures as a thumbnail grid of 3 x 3 or 5 x 5. The video files can also be browsed as thumbnails. Highlighting a video thumbnail won't make it playing as a preview, as it did in Sony Ericsson K810.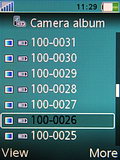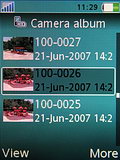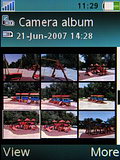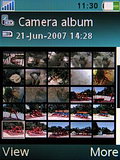 List view • thumbnails list view • 3 x 3 grid view • 5 x 5 grid view
The interesting thing about the picture browsing is the Timeline view, which allows you to filter the pictures according to the month they have been taken in. After you specify the month, you could even choose the exact date. That sort of image filtering is offered by computer picture browsers and digital cameras. The Timeline sorting is seen more and more often lately in the recent Sony Ericsson phones.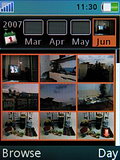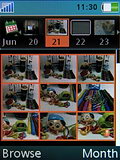 Browsing March pictures • browsing pictures made on 3rd of March
The actual pictures can be viewed in portrait mode (just as you would on any other phone) or in landscape mode if you prefer. While you are going through your pictures the phone preloads a lower quality preview to allow your fast browsing. Pausing browsing once you've found a picture you would like to view in full, will result in loading it with its normal quality.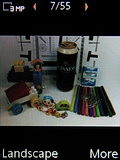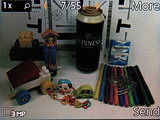 Viewing the pictures in landscape mode is much more natural
You can zoom in to the actual size of the picture or even more, up to 32x. Given the available megapixel count, zooming beyond 8x would rather produce smudged spots than reveal more details. While you are at zooming, a small mini-map of the picture appears to let you know exactly where you are on the photo.
While browsing pictures, you can easily do some basic editing or send them as MMS and email or via Bluetooth and Infrared. Should you choose more sophisticated editing, the PhotoDJ application is at your disposal. With it you can easily adjust levels, lighting, brightness and contrast, remove red-eye effect, apply some color effects to the picture such as negative and sepia, or add a frame or textbox to the picture. We are pleased with its capabilities - it does great with removing red eyes without spoiling the whole picture.