Multimedia: good, better … best
The high-end Sony Ericsson W910 features the Walkman 3.0 player with Shake control and SensMe feature. The player supports MP3, AAC, AAC+, E-AAC +, WAV, WMA, M4A and MIDI file formats and sports the MegaBass equalizer preset. The player can naturally be set to run in the background. If you are not willing to use the media player step-by-step interface, you can directly play a file through the file manager with its classic flat structure. It's a shame Sony Ericsson W910 doesn't offer additional player skins. On one hand, they are developing lovely flash themes, a few new ones found in each new release with revamped menus and effects, and on the other, the player doesn't get a single spare Walkman outfit for the weekends. And all that in a music-oriented phone.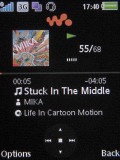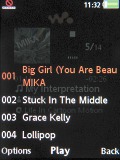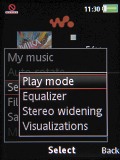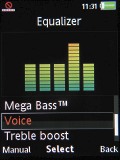 Walkman 3.0 interface, seen also in K850 • Mega Bass is among the equalizer settings
With Shake control on, you can skip or forward a track with a flick of the hand. Tilting the handset right or left will take you to the next or the previous track. Shake it back and forth and it shuffles your playlist. Shake control also contributes to mobile gaming thanks to the integrated orientation sensor. If you are tired of using the dedicated gaming buttons, tilt the W910 left, right, up and down to make your move. It's gaming control without pressing keys. More and more sensors are likely to take phone handing to a completely new level in the future. With Sony Ericsson devices to come users will be able to reject a call by simply running a hand over the handset. However, at this stage Shake control is not that smooth and trouble-free. Dealing with tracks you will sometimes need to really jerk your phone to do the stuff. It's quite OK for the fun of it, but afterwards all that shaking and spinning may become a burden. Anyway, it's a feature that will be more widely appreciated as it gets polished up and implemented in more and more devices (it was introduced not so long ago with W580). After all, it signposts the way users will interact with their devices in the future. Other than that, the walkman key is so recessed into the surrounding surface that it's hard to press with one hand. Not to mention its unusual, to put it mildly, location at the top of the handset.
SensMe is a completely new way of browsing music, which debuts in Sony Ericsson W910. Searching collections and creating playlists based on tempo and mood is the focus, instead of the well known artist or album filters. The interface is original and visually appealing, tracks appearing as dots in a dual plane, placed along a horizontal and vertical axis. This way you can circle a group of tracks that match your mood to create a playlist, or simply select individual tunes if you prefer. You are also able to broaden or shrink the selection of tracks with the navigation key. An alternative for the phone's more conventional music catalogue, SensMe is the way to discover music that matches your current mood. If music on the W910 is uploaded via the Media Manager PC software, mood is directly assigned to each track. You are not able to assign it yourself. Furthermore, if you simply copy tracks trough the regular file browser, they will remain "unseen" for the SensMe matrix, so you are obliged to use the Media Manager to get the mood stuff. Another shortcoming is that managing music with Media Manager requires the phone to be set to Transfer mode, in which the phone is off for calls. The Media Manager transfers tracks too slowly - a 5 MB track usually takes 10 seconds - and that's another drawback. The 113 tracks (492 MB), which took 4:30 min to transfer with a regular card reader, will take about 20 minutes to get uploaded with the Media Manager.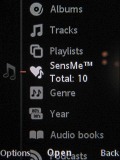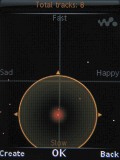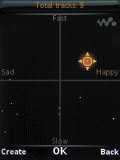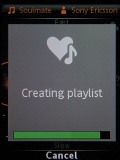 SensMe function with its original interface
The Media center menu lists the Photo, Music, Video, and Settings icons. The current pick is highlighted and the count of included files is displayed. The Media center is also accessible through the sixth icon in the main menu. The settings menu is simple - you may opt for portrait, landscape or auto rotate screen orientation, thanks to the integrated motion sensor. In Media center you are able to sort music by even more filters including the explained SensMe, the year, as well as the well known genre, albums, tracks, playlists, podcasts, etc.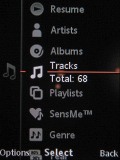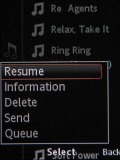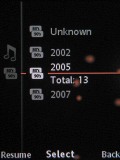 Media center and its music section
If you are willing to find a particular song, but know just a part of its name, don't worry, just type it in track list and the phone will automatically find and display it. If you're not using some of the music options, you can disable them in the options menu.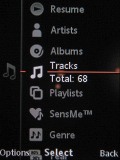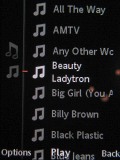 Finding a song is easier that never
Audio quality test
Being able to listen to your favorite tracks is one thing but playing them properly is completely different. Our audio quality test showed that the sweet spot for listening to music on the Sony Ericsson W910 is 2 steps below the maximum volume. Listening to music at the maximum volume boosts the total harmonic distortion and the intermodulation distortion, while using lower volume levels leads to huge deviations of the frequency response curve as well as enormous distortion as visible from the graphs. So we suggest using your W910 at exactly two steps below the maximum volume for best results. And there go our findings, so you can see for yourselves.
| | | | | | | |
| --- | --- | --- | --- | --- | --- | --- |
| Test | Frequency response | Noise level | Dynamic range | THD | IMD + Noise | Stereo crosstalk |
| Sony Ericsson W910 at maximum volume | +0.28, -1.26 | -84.0 | 87.8 | 0.145 | 0.810 | -80.4 |
| Sony Ericsson W910 at two steps below maximum volume | +0.25, -1.25 | -81.5 | 82.7 | 0.0071 | 0.028 | -81.9 |
| Sony Ericsson W910 at mid level volume | +5.60, -2.81 | -32.5 | 77.3 | 0.014 | 34.870 | -69.8 |
| Nokia N81 | +0.39, -1.13 | -86.6 | 85.8 | 0.041 | 0.040 | -69.9 |
| LG KU990 Viewty | +0.29, -2.07 | -86.8 | 83.8 | 0.0020 | 0.0124 | -86.6 |
| Nokia 7500 | +1.11, -1.46 | -72.6 | 72.1 | 0.0017 | 0.094 | -71.6 |
| Sony Ericsson K770 | +0.21, -1.04 | -85.7 | 88.8 | 0.0014 | 0.030 | -84.8 |
Frequency response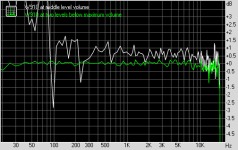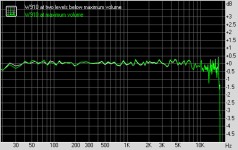 Sony Ericsson W910 frequency response at two steps below maximum volume is far better than the one at mid-level volume • The FR at maximum and two steps below maximum volume is almost identical but the maximum volume boosts the THD and IMD
You can find more info about our test here.
| | |
| --- | --- |
| Listening to music at the maximum volume boosts the total harmonic distortion and the intermodulation distortion, while using lower levels leads to huge deviations of the frequency response curve as well as enormous distortion. So we suggest using your W910 at exactly two steps below the maximum volume for best results. | ADVERTISEMENTS |
The video player, previously found in the entertainment sector, is now accommodated in the media center as well. It supports fast-forwarding and rewinding as well as playing clips in slow motion. The interface is simple but stylish, although it fails to impress from a functional point of view. The built-in motion sensor comes of use again, allowing the video player to auto rotate. Again, the video files are accessible via the file manager, but there you cannot opt to auto rotate the file according to the screen orientation, which we found a bit odd.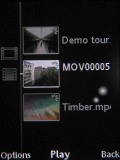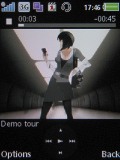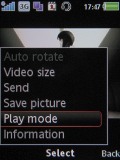 The video player has an auto rotate function, while opening a video in the file manager won't let you auto rotate the clip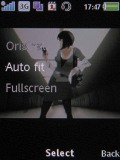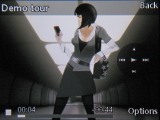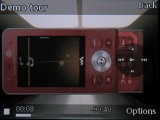 Using the video player in landscape mode is much more comfortable
The integrated FM radio of the Sony Ericsson W910 has memory for 20 preset stations and supports RDS.