Entry-level connectivity
The Sony Ericsson Yendo is quite cheap in terms of connectivity. GPS, 3G and Wi-Fi are missing and network data speed is limited to GPRS and EDGE.
We guess all those features are sacrificed for a nice price tag, but we're yet to see how things shape for the Yendo.
The only good news about the Sony Ericsson Yendo is the 3.5mm audio jack.
Local connectivity comes down to USB v2.0 and Bluetooth. There's also a memory card slot, which can usually give you the fastest data transfer rates. USB charging via the USB port is possible (actually, this is the only way to recharge the Yendo battery).
The web browser does the job
The Obigo Q7 web browser on the Sony Ericsson Yendo is good enough. It lacks Flash support but considering the small and low-res display and the slow CPU even if there was Flash on board, you wouldn't have been able to fully enjoy it.
The browser user interface is rather minimalist – all you get on the screen are controls on the bottom of the screen. Those include four large buttons – back, search, reload and more.
Tapping on "more" will bring you to a few more on-screen knobs which allow you to add the visited website to the main menu or to send the link (as message or email).
Strangely, there is no way to zoom the page in or out and there is no support for multiple tabs either.
Speaking of missing Flash support, there is one more thing missing – the YouTube app which would've compensate for the lack of Flash video.
Organizer is nice, the doc viewer is missing, though
The Sony Ericsson Yendo has no preinstalled document viewer so you can forget about viewing Office or PDF files.
The calendar has two view modes - daily and monthly. Adding a new event is quick and easy, and you can also set an alarm to act as a reminder.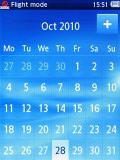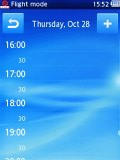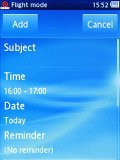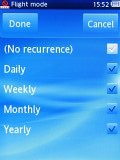 The calendar offers monthly and daily view modes only • Setting up an event
There is also a calculator, a timer, a stopwatch as well as a decent alarm clock aboard. Those are all nicely touch optimized - the buttons are big enough and easy to hit.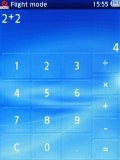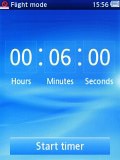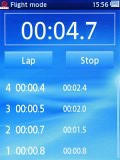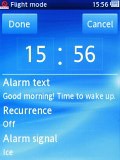 Calculator, timer, stopwatch and alarm clock
Also preinstalled there are a couple of game demos (Brick Breaker Revolution 2, and Nightclub Fever) as well as the Facebook and the Twitter apps. The last two are actually links to the corresponding websites.