Sony posted its financial results for the July-September period, and they look promising. The latest update shows the Japanese company raked in JPY2 trillion (about $18.25 billion) in revenue and managed to get a net profit of $1.15 billion.
The most significant earners are the Semiconductors department, which includes image sensors for mobile products, and the Game & Network Services which accounts for the PlayStation 4 sales - both hardware, and software.

Out of eight business segments for Sony, only one posted operating loss - The Mobile Communications division. The numbers went from JPY3.7 billion ($32.4 million) of income in the same three months a year ago to a loss of JPY2.5 billion ($21.9 million) now. Sales saw a positive change of 1.9% in raw currency, but fell flat on a yearly basis because of the unfavorable exchange rates.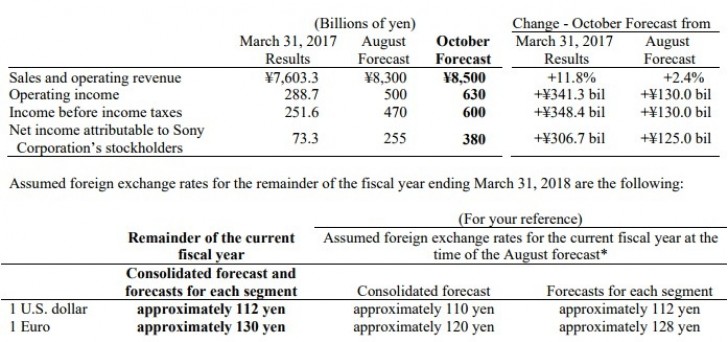 Sony says "the deterioration was primarily due to a change in the geographic mix of smartphone sales, an increase in the price of key components, as well as the negative impact […] of the US dollar."
The outlook for the fiscal year is more than promising for Sony. The company expects to have an 11.8% rise in sales and operating income by the end of March 31, 2018, or JPY8.5 trillion ($74.5 billion). Let's just hope the mobile division also goes up.
s
Why thank you thank you. :) I thought about changing it but I guess I'll keep it now unless some rabid Sony fanboy gets me banned...again lol
?
Awww... music to my ears and so True! Sony Rocks Nay Sayers! Hehe
?
Can't really blame the guy for being doubtful, though - I'm not surprised that even the most biased fans are beginning to run out of trust. This is a good sign as being a brand-tied fanboy isn't really healthy behavior. Also, I must say - nice nickna...