Sony at MWC 2017
MWC 2017: Sony Xperia XZ Premium, XZs, XA1 Ultra, and XA1 hands-on
Sony Xperia XZ Premium hands-on
With the Xperia XZ Premium Sony took the XZ design to its logical conclusion - the two sheets of glass fused into one that wraps around the entire phone. How Sony and Corning got Gorilla Glass 5 to do that is a mystery, but the result is gorgeous (if a bit slippery and smudged up with fingerprints).
This leaves the top and bottom panels to house the antennas of the phone. There is a lot of bandwidth pumped through those antennas - thanks to its Snapdragon 835 chipset, the Premium will be among the first phones capable of 1 gigabit LTE speeds. Carriers all over the world are already running test networks, so 1Gbps on the go may be closer than you think.
Note the USB-C port. It is wired for full v3.1 speed and supports QuickCharge 3.0 (with Qnovo's enhancements to prolong battery life).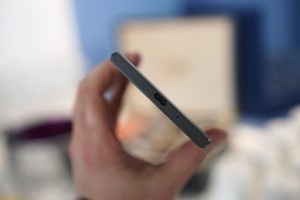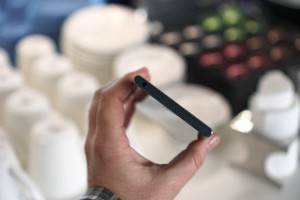 The only two places not covered in Gorilla Glass 5
Anyway, under the glass, the phone features a "premium mirror effect." There are two color options Deepsea Black and Luminous Chrome. "Luminous" is right, the phone is so reflective you can barely tell if it has a color of its own or just reflects all surrounding light.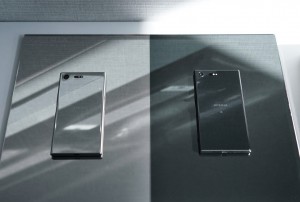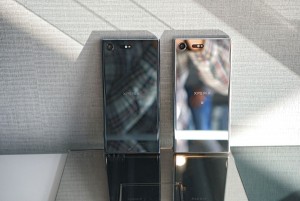 Luminous Chrome and Deepsea Black • Chrome is very reflective
After handling the Xpeira XZ Premium, we were a bit surprised to find the spec sheet lists its weight as 195g. It's definitely a heavy phone, but it carries its weight well.
We didn't get much time with the new 5.5" 4K screen but it was enough to tell it is much, much better than the screen of the Xperia Z5 Premium. The difference in contrast and brightness (up 40%, Sony says) is immediately obvious.
This is also the first 4K mobile screen to support HDR. And with the demise of the Galaxy Note7, one of the few mobile screens to support HDR. It's the new "must have" thing in TVs and we think phones are no different. Strange that Sony was mum on a potential VR future for the XZ Premium - the phone definitely has the screen and chipset for it.
Don't think that this sort of precision made the phone fragile - it has full IP68 rating.
The fingerprint reader is on the side - on the Power button to be precise - which is Sony's preferred position. Whatever the regional issue was, it is still here: Xperia XZ phones sold in some regions will not use the fingerprint reader.
Off to the side are the card slots, hidden under a single flap. The unit we handled took one nanoSIM, but Sony has plans for dual-SIM models as well.