Images of the Sony Xperia 2, expected to go official at IFA next week, surfaced yesterday giving us a quick glimpse of the device. And today, a full set of official-looking press renders of the handset surfaced, showing the phone from multiple angles, in several colors too.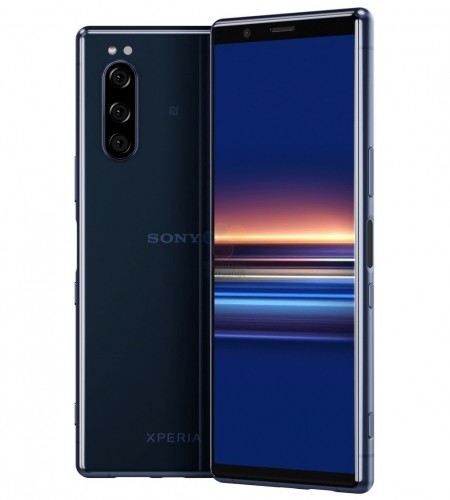 The Xperia 2 looks similar to the Xperia 1, except for the triple camera setup at the back which is now placed in the top-left corner of the device, as opposed to being along the central axis.
On the left side of the Xperia 2 is the SIM card slot, and on the right side is the fingerprint scanner flanked by the volume rocker and power key. There's also a dedicated camera shutter button further below, a long-standing Sony-exclusive feature.
The bottom of the phone is home to a USB-C port which is flanked by the primary microphone and a speaker grille, with the top of the phone housing the secondary mic. The Xperia 2 doesn't come with a 3.5mm headphone jack, but then neither did the Xperia 1.
As far as the specifications are concerned, the Sony Xperia 2 will sport a 6.1" 21:9 display which is 0.4" smaller than the Xperia 1's. As a result, it will likely pack a battery smaller than the 3,330 mAh cell on the Xperia 1.
The Xperia 2 is expected to have a Snapdragon 855 SoC at the helm with 6GB of RAM and 128GB of storage.
We don't have details about the selfie camera but the source says that the triple camera setup at the back is likely to be the same as that of the Xperia 1, which seems to make all the sense.
There's no word from Sony about the Xperia 2 yet, but we will know more about its specs, pricing, and availability next week if the Japanese tech giant does indeed make it official.
Source (in German)
Look like you are a man, your muscle can manage a 5000mah weight not to mention how many time of stretching for a big phone. A big phone with bigger battery will be heavier, with one hand operate is much painful.
D
Sony make decent cameras always have done its just the lens and software where they fail. If you took a sony sensor with leica lens and have pixel image software you have the world best camera phone better than P30pro S10 5ag
D
Compared to my S10 yes there huge. Just passing a comment on this forum. If you dont like the comments. Why be on here
ADVERTISEMENTS