Xperia on Ice Cream Sandwich
The Sony Xperia acro S runs Android 4.0.4 Ice Cream Sandwich out of box and it's got the custom Sony launcher on top of it, so the interface doesn't feel too different. It's not exactly identical to what you got with the Xperias that started with Gingerbread and were promoted to ICS, but you will still find your way around reasonably quickly.
As usual, we're starting with a short video of the user interface:
The Xperia acro S has the usual five-pane homescreen configuration, but there is no option to add or remove panes. Along the bottom, there are five docked shortcuts (the app drawer shortcut and two on each of its sides). These are visible across all five homescreen panes and are user configurable: they can be either single icons or folders with multiple items in them.
Speaking of folders - they show thumbnails of the first four items in them.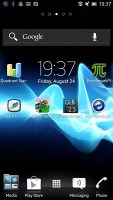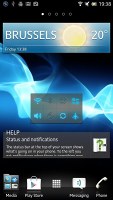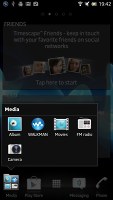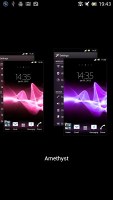 The Sony Xperia acro S UI • Choosing theme • Folders
As with older Sony smartphones, you can change the color theme of the launcher according to your preferences.
The homescreen does a neat trick called Overview mode. Pinch to zoom out on any of the 5 homescreen panes and a new screen opens up with a cool transition. All active widgets gather there for easy viewing and selection.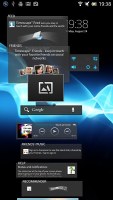 The Overview mode helps you find the widget you are looking for
The Xperia acro S has some custom-made Sony widgets in addition to the standard set. Those include the Timescape widget (there's a dedicated app too) and a Mediascape-like widget for photos and videos (the actual app isn't there anymore, but the Album gallery is).
When on a homescreen pressing the menu button opens up a context menu under the status bar. It gives you two options - choosing a widget and choosing a wallpaper/theme. It's oddly placed and easy to miss at first because the animation is so underplayed it looks as if nothing has happened.
A cool new addition to the lockscreen, missing from the Xperia phones of old, is the Walkman widget which lets you control music playback without unlocking the phone. You can also enable Face, Pattern, PIN or Password unlock, in ascending order of security.
Moving and removing widgets hasn't changed and is as simple as on droids of old - hold a finger over a desired widget and move it around. The action has a cool wobble animation to it.
The standard notification area and task switcher are of course present and accounted for, with no custom touches to them. For some reason, the notification area isn't accessible from the lockscreen as it usually is on ICS (and on other ICS-running Xperia phones).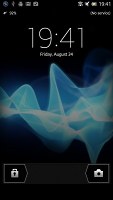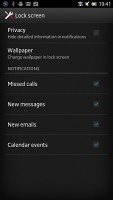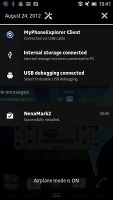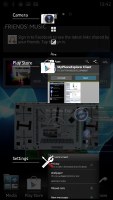 The lockscreen • Lockscreen options • The standard notification area and task switcher
As a part of the ICS platform you get the Data usage app. Sony provided one on Gingerbread as well, but this one is far more accurate in calculating your used traffic. It also lets you set a limit for mobile data usage for a specific period and o gives you a breakdown of which apps have used how many of your precious bytes.
Sony has added its own Backup & reset feature for Android ICS. It works for apps you've uninstalled and then reinstalled again, restoring them with the previous saved settings. The reset menu also lies in the same submenu.
Sony has made a lot of improvements to the standard ICS build, but also omitted some that other OEMs are opting for. For example, Samsung has a Remove all feature when you open the task switcher. Also, there are still no connectivity toggles in the notification area and there's no option to change the number homescreen panes.
Synthetic benchmarks
The Sony Xperia acro S is powered by a Qualcomm MSM8260 Snapdragon chipset, which packs two 1.5 GHz Scorpion cores, 1 GB of RAM and an Adreno 220 GPU, which has all of 1280 x 720 pixels to push. Altogether a nice configuration but still a year or so behind what the current crop of top droids have on tap.
We begin with the Quadrant benchmark where the Xperia acro S did its best but against mostly quad-core competition. It naturally failed to secure a top spot for itself.
Quadrant
Higher is better
Samsung Galaxy S III
5365
Meizu MX 4-core
5170
HTC One X (Tegra 3) (Tegra 3)
4842
LG Optimus 4X HD
4814
Sony Xperia acro S
3027
Motorola Atrix HD
4178
In BenchmarkPi the Sony Xperia acro S managed to beat the Xperia ion but not much else. Even the Xperia U and Galaxy S Advance came out ahead of it.
Benchmark Pi
Lower is better
HTC One S
306
HTC One X
338
Samsung Galaxy S III
344
Motorola RAZR MAXX
402
Sony Xperia acro S
555
Samsung Galaxy S Advance
530
Sony Xperia U
533
Sony Xperia P
539
Sony Xperia ion
618
Samsung Galaxy Beam
539
Motorola RAZR (Gingerbread)
593
Samsung Galaxy Ace 2
643
Linpack tests the calculative performance of the two Scorpion cores inside the Xperia acro S. It won a midrange spot for itself, as expected.
Linpack
Higher is better
HTC One S
210
Samsung Galaxy S III
177.1
HTC One X
126.1
Sony Xperia P
66.9
Sony Xperia ion
89.8
Sony Xperia U
64.9
Samsung Galaxy S Advance
64.7
Samsung Galaxy Beam
63.5
Samsung Galaxy Ace 2
54.9
Motorola RAZR (Gingerbread)
55.8
Sony Xperia acro S
67.6
Motorola RAZR MAXX
51.2
NenaMark 2 tests the GPU performance in a graphical stress test. The Xperia acro S got a solid 36.9 frames per second here, which is a stellar result when compared to other dual-core devices with fewer pixels to push out.
NenaMark 2
Higher is better
HTC One S
60.5
Samsung Galaxy S III
58.8
HTC One X
47.5
Sony Xperia acro S
36.9
Motorola RAZR MAXX
36.9
Sony Xperia ion
37.3
Samsung Galaxy Beam
35.8
Samsung Galaxy Ace 2
31.6
Sony Xperia P
29.9
Sony Xperia U
28.3
Motorola RAZR (Gingerbread)
27.2
SunSpider and BrowserMark test the web browsing performance. The acro S performed very well against the dual-core competition, Kraits aside.
SunSpider
Lower is better
Samsung Galaxy S III
1447
HTC One S
1708
HTC One X
1757
Sony Xperia acro S
1866
Sony Xperia ion
2636
Motorola RAZR MAXX
2136
Samsung Galaxy Beam
2517
Samsung Galaxy S Advance
2663
Sony Xperia P
2784
Sony Xperia U
2814
Samsung Galaxy Ace 2
2997
Motorola RAZR (Gingerbread)
3455
BrowserMark
Higher is better
Samsung Galaxy S III
169811
HTC One S
98435
HTC One X
96803
Sony Xperia acro S
92653
Sony Xperia ion
74990
Motorola RAZR MAXX
92653
Samsung Galaxy S Advance
81557
Samsung Galaxy Beam
81136
Sony Xperia U
75906
Sony Xperia P
72237
Samsung Galaxy Ace 2
62252
Motorola RAZR (Gingerbread)
59783
When all is said and done, the Xperia acro S is a balanced performer, and there aren't any major hiccups or slowdowns. It won't be winning many awards with its benchmark results, that's a given, but as a daily driver the acro S does just fine.