Solid connectivity
The Sony Xperia U has quad-band 2G and 3G. Mobile data speeds are boosted by 14.4Mbps HSDPA and 5.76Mbps HSUPA.
Local connectivity is covered by Wi-Fi b/g/n with DLNA, so you can easily play media (photos, videos, music) from DLNA-enabled storage devices or push content from your phone to a DLNA TV or music player.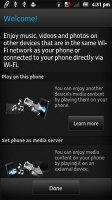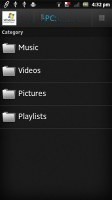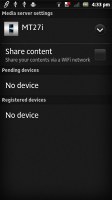 The Connected Devices app handles the DLNA functionality
A dedicated app, Media Remote, will serve as a remote control for DLNA-capable BRAVIA TVs and Sony DVD/Blu-ray players too. It has a few versions of the interface ranging from simply changing the channels to mouse input and viewing disc history.
The Media Remote app is available for free download at the Play Store so other droids can use it too.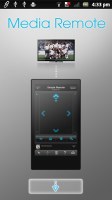 Stereo Bluetooth is version 2.1.
The Xperia U lacks NFC capability, but makes up for that with USB on-the-go support. It had no problems pairing up with a USB Bluetooth receiver for a keyboard and mouse.
Once connected, a standard mouse pointer appears enabling mouse operation, but it isn't very useful on the small screen of the Xperia U. It's still good to have though.
USB flash storage worked like a breeze as well. It even managed to hook up with both the keyboard and mouse, and the USB flash storage via a USB hub.
Classic Android web browsing
The user interface of the browser is simple, with almost no visible chrome by default. Once the page loads, all you see is the URL bar and the bookmark button at the top of the screen. Once you zoom in and pan around though even that disappears (scroll to the top or press menu to bring it back).
The browser supports double tap and pinch zooming, along with the dedicated virtual zoom buttons. There's text reflow, which reformats text so that it best fits on the screen.
The browsing performance is excellent - panning, zooming and the text reflow are very fluid.
The minimalist UI is still very capable - hit the menu key and six keys pop up. You can open a new tab, switch tabs, refresh the page, go forward, and open bookmarks. The last button reveals even more options (text copying, find on page, etc.).
One of the important features in the web browser is the full Flash 11 support. YouTube videos played smoothly all the way up to 720p - no dropped frames, audio lag or video artifacts. Flash games played trouble free too.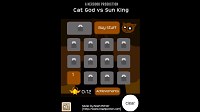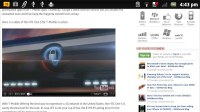 Playing YouTube videos in the browser • Flash games work too