Social integration
The Xperia Z offers a completely new social service, replacing the previously popular Timescape. It's called Socialife.
The Socialife is a Sony home-made app that supports Facebook, Twitter, YouTube and Google Reader accounts. You have a unified Stream page where you can view every social notification that you have order chronologically or by the Smart Sorting feature. The latter puts the stories you might be interesting before others.
There is a Post field which from where you can update your Facebook and Twitter statuses.
The service offers four widgets - two for your stream with different visual styles, one for quick social status update and one with quick shortcuts to your social friends. The latter also shows new notifications with small balloons in the upper right corner (the iOS style).
Great organizer
The Sony Xperia Z comes with the OfficeSuite 6 viewer. OfficeSuite 6 allows you to view almost any type of document, although you'll have to fork over for the Pro version if you want editing capabilities as well.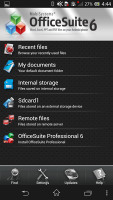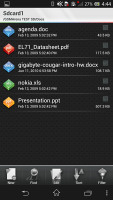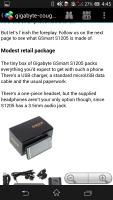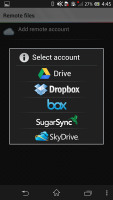 OfficeSuite 6 handles all your documents
There's a Notes app that comes with the Xperia Z. It's pretty simple to use - you can select the color of the note and just start typing or doodling. There's also an option for Evernote integration.
The Power Saver setting helps you extend your battery life by toggling things like Wi-Fi, GPS, Bluetooth screen brightness, auto sync and background data on and off automatically when the battery charge falls below a certain user-defined threshold, turn off the Wi-Fi if there is no saved Wi-Fi network in range or turn off the mobile data when the screen is off.
The calendar has three different types of view - daily, weekly and monthly. The lower section of the screen is reserved for a list of upcoming events. Adding a new event is quick and easy, and you can also set an alarm to act as a reminder.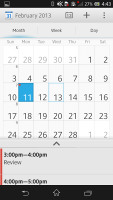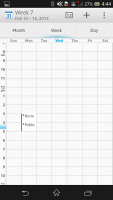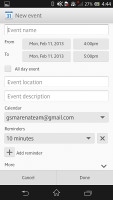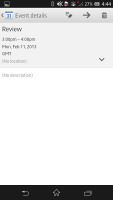 The organizer centerpiece - the calendar
The Calendar also pulls info on upcoming events from your Facebook account. Facebook events appear just like regular calendar entries, except that you can't edit them from the app.
There is a nicely touch-optimized calculator aboard. The buttons are really big and easy to hit, and it also includes advanced functions (trigonometry, logarithms).
The clock app supports multiple alarms, each with its own start and repeat time. There's also a desk clock option, although it doesn't have integrated weather or news information.
The stopwatch, world clock and timer are available within the clock app. The Timer function now has a history option, and the world clock features a cool slider which helps you quickly figure out the local time in another city.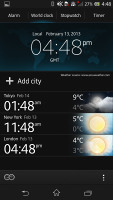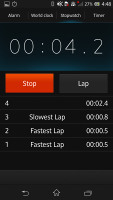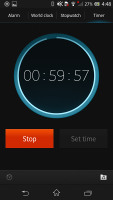 World Clock • Stopwatch • Timer
The Google Play store is full of free apps that will cater to all your organizational needs.