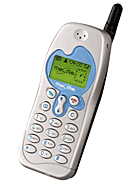 ?
Anonymous, 06 Dec 2005yes... awful!! sony ericsson betterThat is very mean
D
i see the future in this phone
A
Old, very old but not bad. I mainly think that most of these phone companies are copying Nokia, Motorola and LG. Those are my 3 most fravroiute phone companies.
?
yes... awful!! sony ericsson better
?
Ben Smith, you make me laugh :-) You also worship the Kyocera phone too, hey, I have a really old T909 I would like to see you for $500. Interested?
B
Tel.me where I can get one of these beauties - I love the way the numbers are written, it adds a whole new dimension to it. Please can you tel.me if they are going to bring it out with a camera ???????? Also tel.me if the phone has bluetooth? can anyone tel.me if this is a tri-band phone?
I
I have a problem,I need a charger for Tel.Me T909 and i want to buy it.Tell me how could you deliver and the payment mode and how much it is.
Total of 8 user reviews and opinions for Tel.Me. T909.