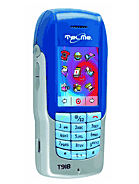 ?
Yeah that's right, this phone has got a colour display with 65000 colours!!
You don't believe it? => look at www.telme.at
P
The price for this phone is around EUR 300 if you buy it as a free phone.
A
hi its nice one can u plz tell me where can I get this handset to buy in india .I am requesting you to please tell me the postal address along with telephone number or compnay details
U
very nice features, sad that not triband, then would be just perfect. lil bit silly colours and design. on their webpage there is webshop and this phone is not that expensive
Total of 171 user reviews and opinions for Tel.Me. T918.