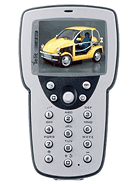 P
wierd :S but reasonably good features i suppose... but still... that look :S
g
if you take it in your hands you'll be surprised by its dimensions and weight...and it's much much better looking than in the pictures!
?
man, this is one ugly phone! And I thought that Italian design was famous for it's good taste...
B
it looks nice, how much?? and where can i get it from?? i live in England!!
T
Ok...the design is quit funny looking
But the features are ace cool!
Does anyone know a price??
I live in Denmark...so if it's avalible in Germany....

Total of 108 user reviews and opinions for Telit G80.