Along with the novel coronavirus outbreak, the World Health Organization is also battling misinformation and it's doing so in a very cool way - with a WhatsApp bot. You can ask pretty much everything coronavirus-related question and it will spew up to date authoritative information.
To receive updates on #COVID19 from WHO add this number— +41 79 893 18 92 to your contacts and send a @WhatsApp message. You'll automatically be registered to receive updates and also have an option to ask for more information as shown below. pic.twitter.com/WXaGd88AGf

— WHO Uganda (@WHOUganda) March 20, 2020
All you have to do is add the bot to your contact list using the number +41 79 893 18 92 and then start a chat by typing "join". It will display a simple menu and you can navigate by typing in the relevant number corresponding to the information you want to receive regarding the COVID-19 outbreak.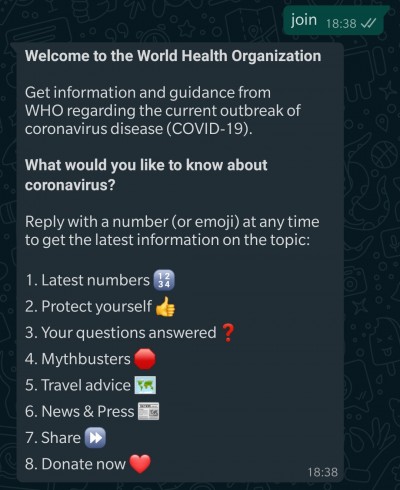 Of course you can just open WHO's official website and look up the information you need the good old-fashioned way.
?
What is country code of who number
a
Do you think god is punishing people for using too much social media? I value your opinion. ;-)
?
writing anything in the chat will do the same as writing "join" as i wrote "hi"
ADVERTISEMENT