The Snapdragon 8cx Gen 3 is the first 5nm chipset for Windows-on-ARM laptops, 7c+ Gen 3 tags along
Yesterday was all about the new Snapdragon 8 Gen 1, today Qualcomm is focusing on other platforms. Starting with Windows-on-ARM laptops and two new chipsets for them – one flagship and one for affordable devices that nevertheless need 5G connectivity.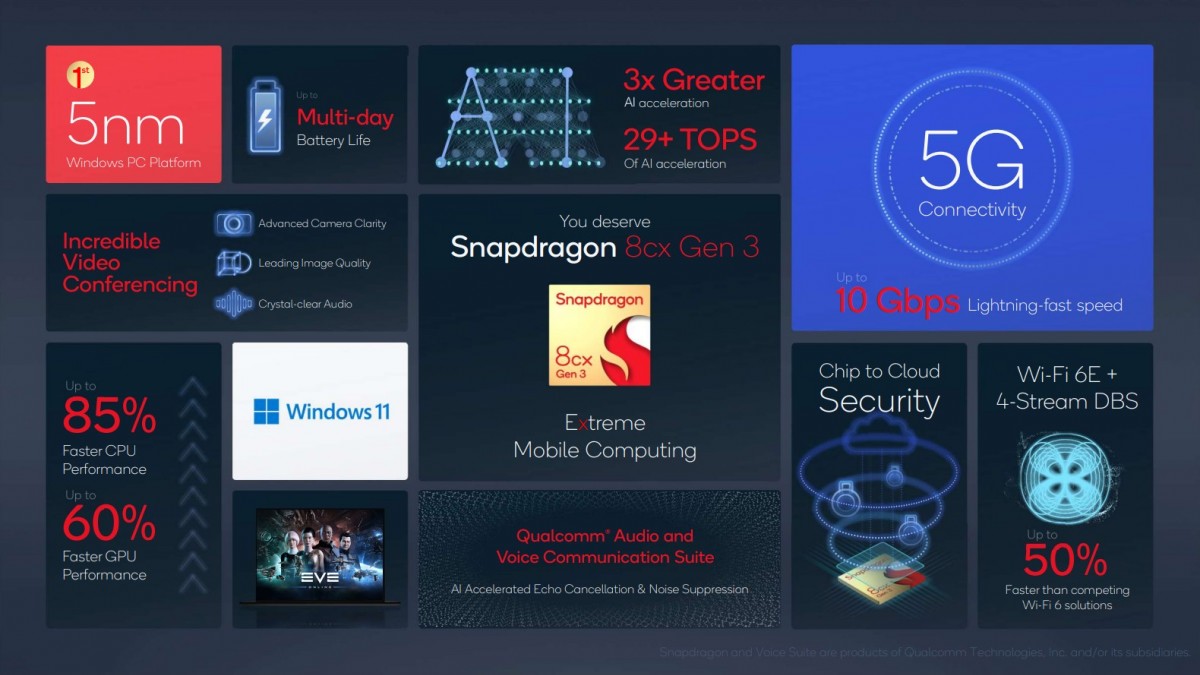 The Snapdragon 8cx Gen 3 is the high-end offering. Qualcomm is keeping hardware details under wraps, so we don't know what CPU cores are being used here. We do know that it is a 5 nm chipset (a world's first for Windows devices), while both the original 8cx and the Gen 2 were 7 nm parts.
The company also revealed that the new chip will offer a massive 85% increase in multi-core performance compared to its predecessor, along with a 60% boost in GPU performance. Also, the NPU has been upgraded and now offers over 29 TOPS, three times what the previous chip could manage.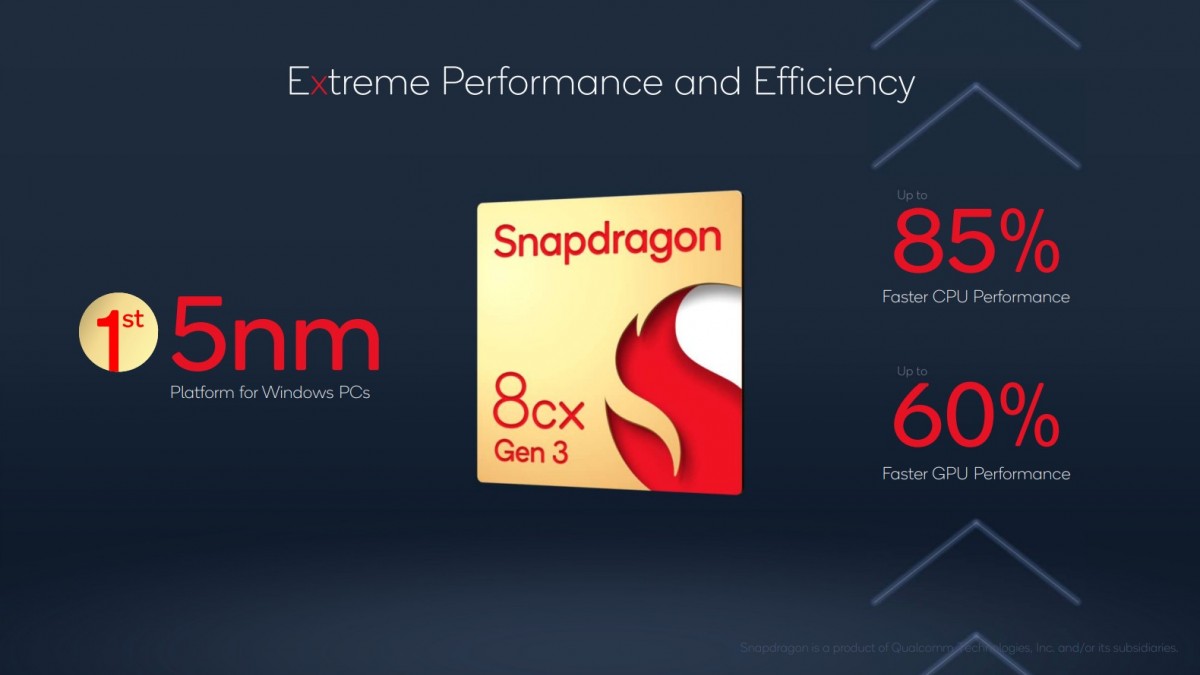 And all of that with reduced power usage, Qualcomm says that this can be used in fanless designs. The previous chips could too, but this should have them soundly beaten in sustained performance. The company is also boasting about multi-day battery life, but that will obviously depend on the individual laptop.
The 8cx Gen 3 taps into many of the advancements made in the smartphone chips, including the advanced modems. Qualcomm will offer laptop OEMs several configurations when it comes to 5G – the top shelf option is the X65 modem that can deliver up to 10 Gbps downlink speeds, the older X55 is the middle option topping out at 7.5 Gbps, then there is the X62 at 4.4 Gbps. Local connectivity includes Wi-Fi 6 and the latest Wi-Fi 6E.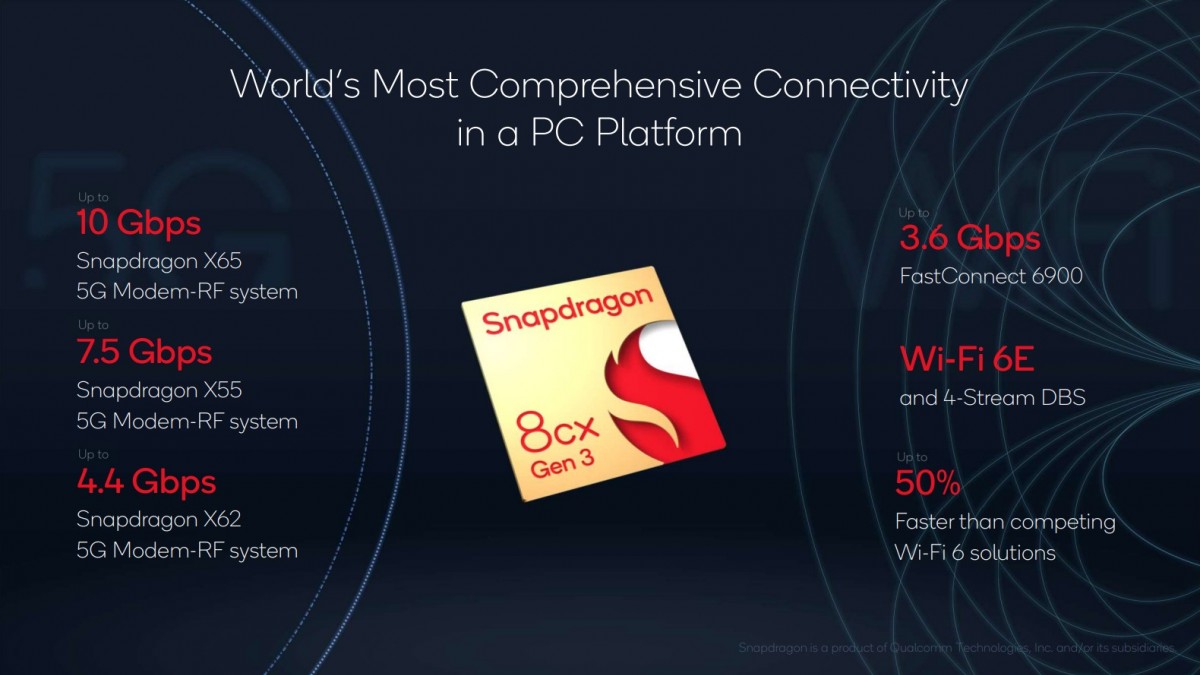 There are other features like AI-accelerated echo cancellation and noise suppression (this is where that beefy NPU comes into play). Also, the chip supports multiple cameras, for example, it can share front and back cameras simultaneously for an online presentation in an office or for school. Work/study from home is a major consideration this generation, as is working on the go.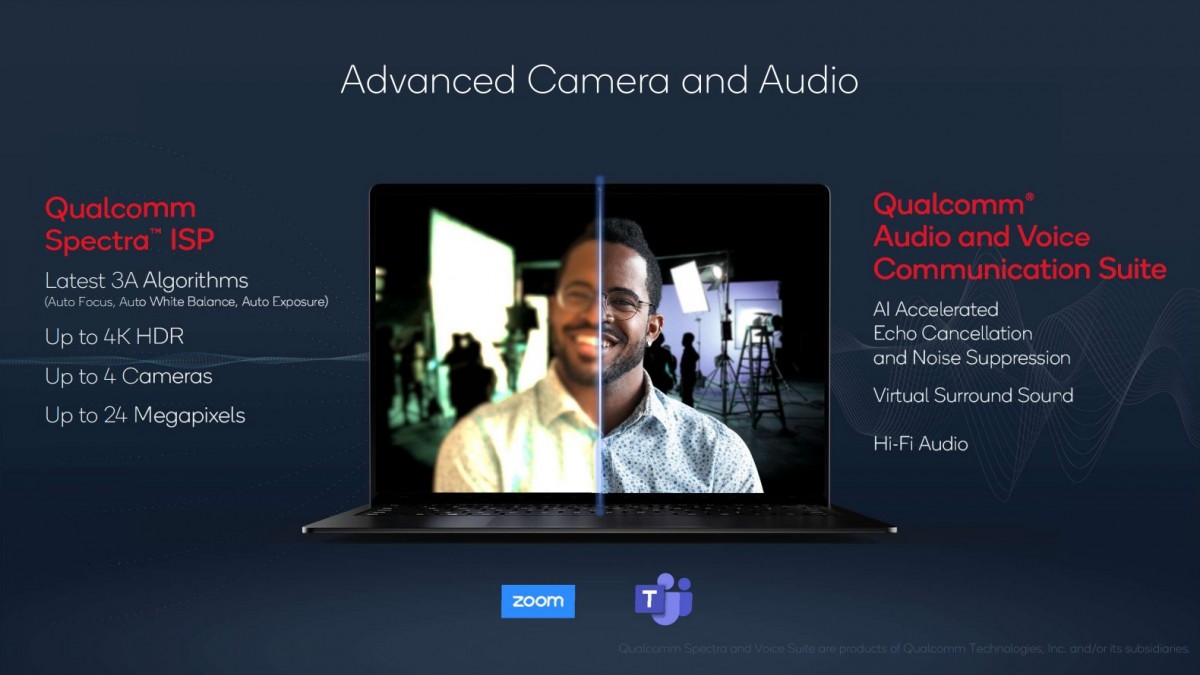 The Snapdragon 7c+ Gen 3 is aimed at affordable Windows laptops. It is fabbed on a 6 nm process (the 7c Gen 2 was an 8 nm chip) and offers major performance improvements over its predecessor – 60% faster CPU and 70% faster GPU. Of course, Qualcomm didn't make a direct comparison between the 8cx and 7c+. The NPU offers 6.5 TOPS of AI compute power, a minor improvement (up from 5 TOPS).
Wireless connectivity also got a major boost – it now supports 5G. With its X53 modem it can deliver downlink speeds of up to 3.7 Gbps. It supports Wi-Fi 6E as well for speeds up to 2.9 Gbps.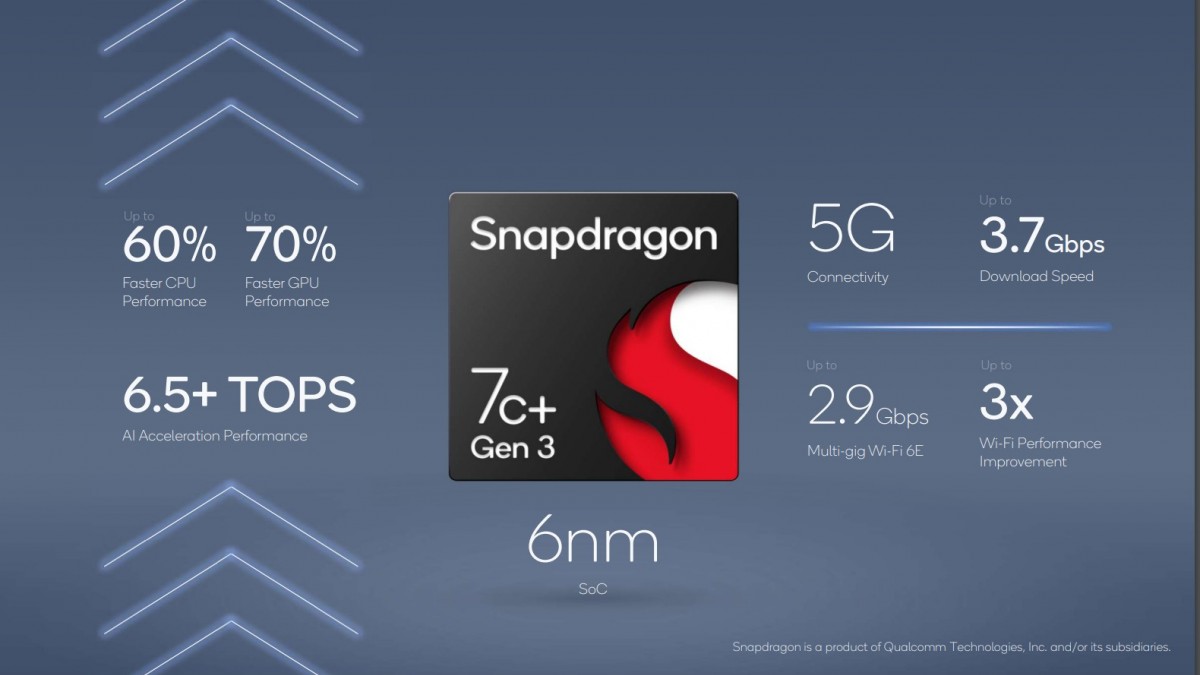 The Snapdragon 7c Gen 2 only did 4G, but Qualcomm thought it was important to offer fast, modern connectivity even for the entry-tier laptops, so it switched to a 5G modem. Of course, the two new chips also benefit from developments in Snapdragon audio and security features.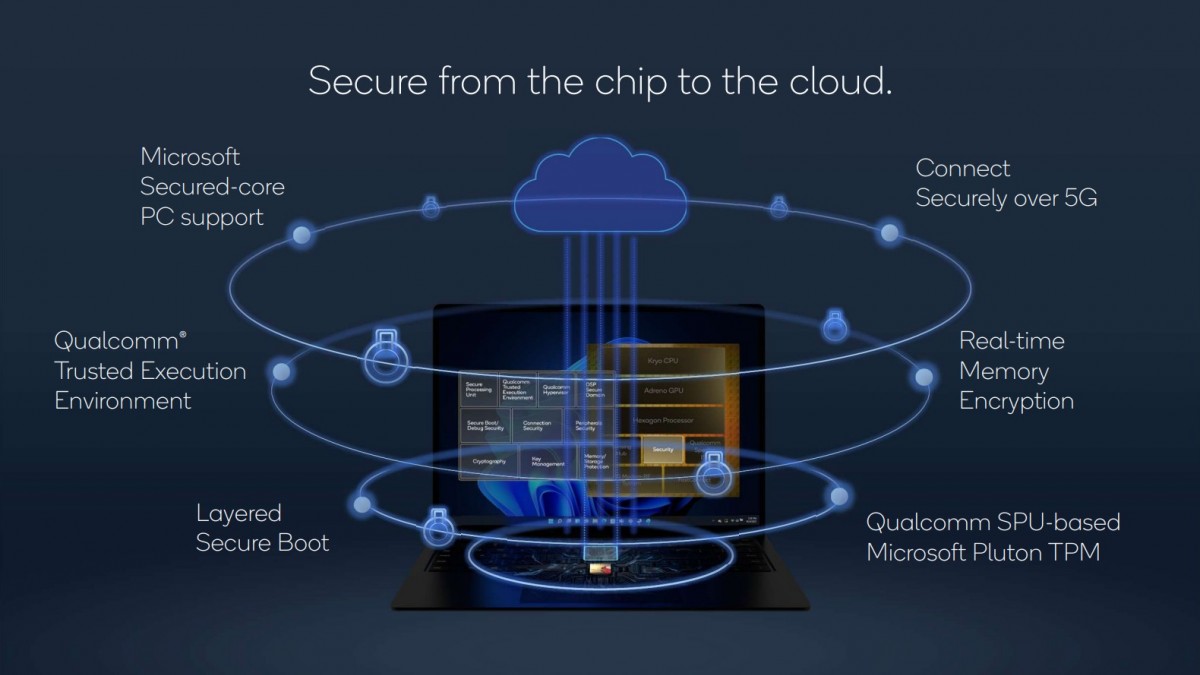 According to Qualcomm, the first Windows 11 laptops with the Snapdragon 8cx Gen 3 and 7c+ Gen 3 will come out in the first half of 2022.
W
Wiil intel be like nokia?!!
T
Affordable? This is presuming the OEMs will aim the proper market. The Acer Spin 7 (SD 8cx) retails for more than $1500 USD. Nice try.
H
Yes, people can judge that you have no proof to show anything. It's always "becos I say so". I backup with links that showed factual data, but to your personal narrow-mindedness emotions, you boldly keep claiming they are all paid a...
ADVERTISEMENTS