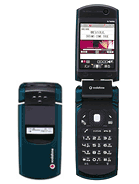 R
i got and unlocked one from ebay for $285. the size wasn't what I expected lol. it's probably the the biggest phone I ever had lol. i got a 1gb memory card. put a bunch of mp3 and some images. none of mp3s worked and all gif images wouldn't work because "image size is too large". those are the negatives so far. i will update later!

?
Heard from someone that the mp3 ringtone can only store a maximum size of 300k is it true?
g
well its great..i have been using it for a month its has no problem..it cant play mp3 but u must used beatengine to convert it...n the batt is 880mah...but if in sms it cant turn off the t9 function..its a problem for me...i love the design only its too big..stereo sound its not bad...overall for me its a good phone....
J
The built-in MP3 player software has the 2 following functions: a 6-mode equalizer and a 6-mode surround... It has a stereo speaker as well.

Menu and sms language only in English and Japanese.

the 5 tiny buttons on the "Head" of the phone controls the mp3 player while the clamshell is closed, the keys can be locked if u wanna put the phone into your pocket...
c
As I know T-mobile doesn't support the GPS navigation service in America. Correct me if I'm wrong. Thanks!!
Total of 108 user reviews and opinions for Toshiba 904T.