Motorola's Nexus 6 is now on sale at Amazon USA and costs $100 below manufacturer's official price. Now you get the 32GB Nexus 6 for $249.99 or the 64GB one for $299.99. Those are exactly $100 down Moto's official (and already discounted) listings for $349.99 and $399.99.
This isn't the first price cut the Nexus 6 is seeing, and it sure won't be its last as the new generation of Nexus smartphones is already out there. But the new price is indeed very attractive and will do for a late Christmas present, if you live in the States.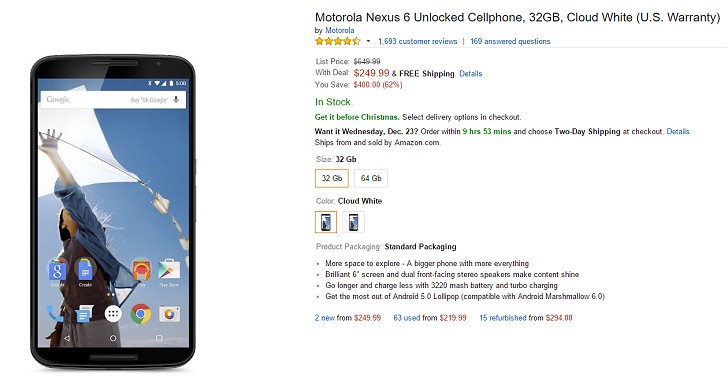 Currently only Amazon USA is offering the Nexus 6 at this bargain price - other markets aren't getting the same treatment. But the phone is unlocked and SIM-free, so you may want to check the offer out.
?
no lie or anything , but the deal might be over.
?
Not a lie. Find the correct seller first. here is the link: http://www.amazon.com/gp/product/B00R1984I8?tag=slicinc-20&ascsubtag=aa13d42ca8e311e5a8d5aa6f5b21e3450000
R
Bought a 64G one a few weeks ago. So far so good. Got Marshmallow 6.0.1 update soon after.