Last year was turbulent for a lot of businesses, and the smartphone makers were also affected. According to TrendForce, companies pushed 1.25 billion devices - that's 11% fewer compared to 2019.
The top six brands were Samsung, Apple, Huawei, Oppo, and vivo, with Huawei suffering the most due to the trade ban, disallowing the company to work with Google and, more recently cutting its access to chips.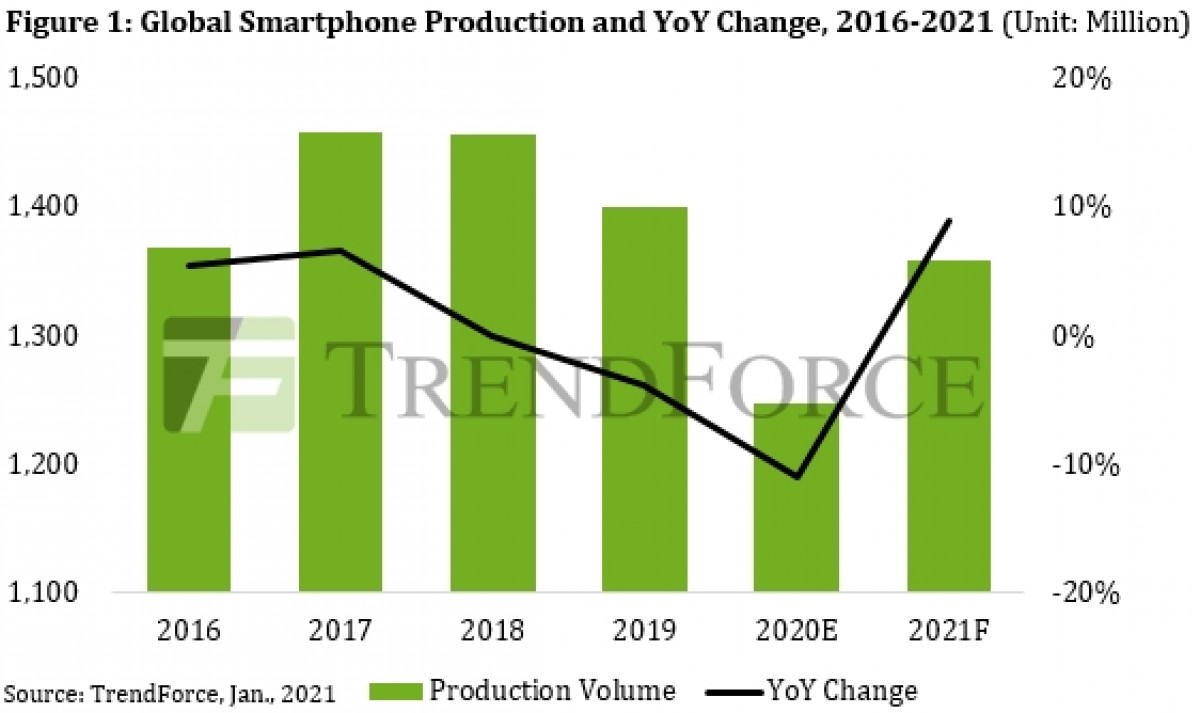 The next 12 months should see a solid rebound in the market. The analysts expect a strong wave of device replacement and demand growth in emerging markets. The annual global smartphone production for 2021 is predicted to be 1.36 billion units or a 9% increase from 2020.
However the forecast for Huawei is grim, pushing the company out of Top 5 by volume, with its market share plummeting to just 3%. The bold prediction also suggests Transsion, the owner of brands like iTel, Tecno, and Infinix will see big growth and overtake Huawei.
Company
2020 Production estimate
(in million)
2020 Market share
2021 Production forecast
(in million)
2021 Market share
Samsung
263
21%
267
19%
Apple
199
15%
229
16%
Xiaomi
146
11%
198
14%
Oppo
144
11%
185
13%
vivo
110
8%
145
10%
Transsion
55
4%
60
4%
Huawei
170
13%
45
3%
5G will remain a key talking point in 2021. Expectations are the penetration to rise to 37% but production will be limited due to foundry capacities. TrendForce said smartphone brands aim high and will increase production targets, limiting the capacity of how many devices and components can the factories push out in time.
?
Until HTC has closed their door's there's always a glimmer of hope.
ADVERTISEMENTS