The European Samsung Galaxy S5 is currently receiving an over the air update that carries performance improvements with it.
The update comes in two parts - the first one is the huge chunk clocking in at 194MB and right after it comes a 1MB additional update. Samsung isn't specifying why it needs almost 200MB downloaded and installed on the smartphone and only states "improved performance".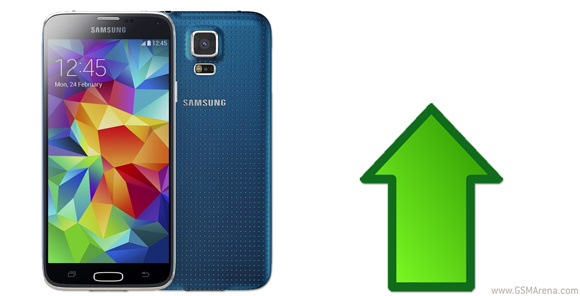 Upon updating the device we didn't find any additional software that might account for the update size. As for performance, well the device was already as fast as fast gets so it's hard to feel the difference .
The annoying thing about the update being split into two is that your Galaxy S5 will need to reboot one more time, but the second update takes almost no time to install.
This is the second major update for the Samsung Galaxy S5, the first came about a month after the device hit the shelves with a much-needed improvement on camera speed.
The update is currently live in the UK as well as Eastern Europe and perhaps has already gradually rolled out elsewhere. If you of you have received it outside of the Old Continent give us a word in the comments.
D
I recieved the update today here in Macedonia and yes before used ram was 1.20 1.30 of total 1.81 now its 1.1 of total 1.67. The total ram has decreasex and used ram also which makes no difference at all they have hiden 20o mb of ram?!!!
D
I got the update yesterday of 230 mb in dubai. I found many changes 1. Ram Management 2.ultra power saving mode switches faster 3. Much faster and smoother experience 4. In the lock screen settings you can found lock screen effects are sho...
n
Tell me about it I thought my phone was broke Great Job Guys Great Way To Please The Crowed