It's that time of the week again when we look back at what you found most interesting during the past few days.
Yet again, the Galaxy Note 5 seems to be the most prevalent presence on the list. Samsung's upcoming phablet continues to captivate the mobile realm and with its announcement just a couple of weeks or so away, it seems to be on everybody's minds. We are still uncovering pieces of the Note 5 puzzle, a lot of which are open to debate. Hopefully, everything will be cleared up come August 13 when we should finally see the Note 5 in the flesh.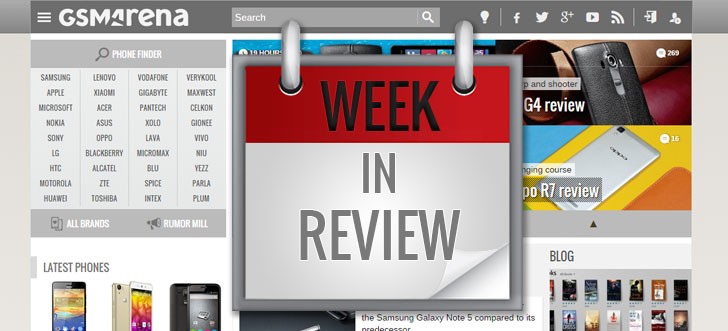 Rumors also hint at another devices that should debut alongside the latest of Samsung's Note series. It is dubbed the Galaxy S6 edge+ and could actually turn out to be real, judging by all the leaks and photos. Meanwhile, the new Galaxy Tab S2 tablets quickly made their way through the rumor mill this week and are now official.
But Samsung isn't the only one fueling fan excitement. The new Moto G (3rd gen) has been frequenting the rumor mill and we really can't wait to see what Motorola has managed to achieve with the latest iteration of its legendary budget device. Prospects are exciting indeed, with speculations of a new Snapdragon 610 SoC, 2GB of RAM, as well as Moto Maker eligibility for the handset.
Naturally, we haven't forgotten about the OnePlus 2 either. After a few exhausting weeks of viral marketing and learning little bits and pieces of the upcoming phone, a trip to TENAA finally put an end to the company's tease, revealing the design of the smartphone. It has quite a few new elements to offer and we are interested to see how fans of the OnePlus 2's predecessor respond to the changes.
In other news, Sony is allegedly working on two new high-end Xperia devices - the S60 and S70. Also, Microsoft is developing at least three new Lumia devices, if not more - the Lumia 550, 750 and 850. The popular YU Yureka Plus also received a significant hardware update recently.
If you think you might have missed something from the week, here is a list of the hottest topics in the tech world.