People want a solid bundle when they buy a new phone - nearly half of voters expect a good quality charger and headphones to come in the box. That is for high-end phones, of course, low-cost handsets can squeak by with a basic package, but expensive phones have to justify their cost.
Some - a third of voters - go even further, they want to get a additional extras. History shows that a solid bundle is a good way to draw in a crowd. We remember the Nokia 5800, which came with a whole sack of goodies, but bundles can be strategic too. Samsung paired its Galaxy flagships with a Gear VR headset, which increased interest in the phone but also made Samsung one of the biggest VR players.
There's a second school of thought too - skip the accessories to keep the price low. Paradoxically, there are two polar opposite reasons for this. One is simple - just saving money. The other involves spending more money. This is especially true for headphones - any money saved on the phone can go towards high-end cans. If makers are kind enough to give you a headphone jack, naturally.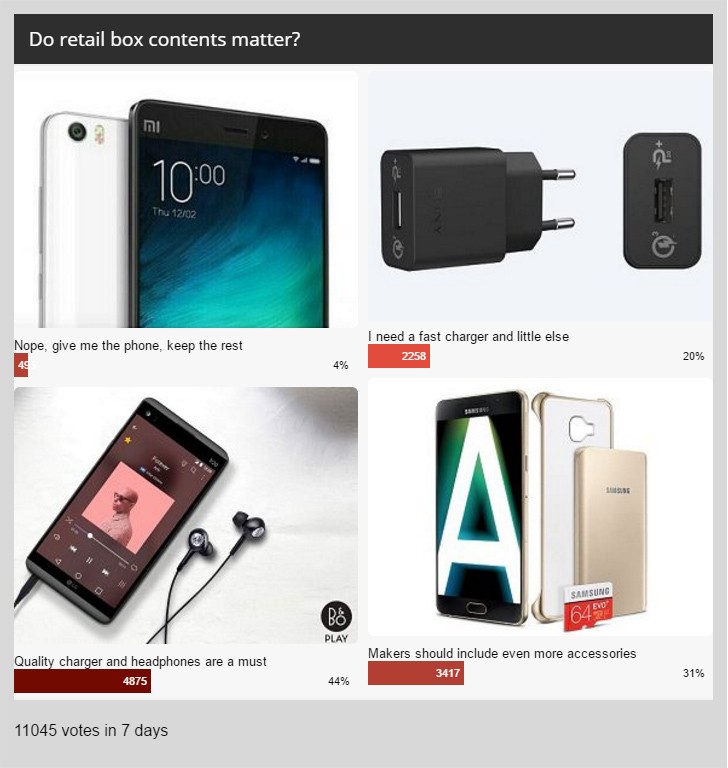 J
The thing is if you wanted to spend that much on a phone, you'd also be going to buy S8 everyone knows it's the best. But then people bash something they are not likely to have
a
agree with you bro. Don't know why people here don't want to buy their own 3rd parties accessories which usually are better quality/value and have wayy better choices. smh
F
I don't realy need anything other than phone to be in the box. I appreciate fast charger, but i it's not my first phone, so i already have two of those. I certaily don't need shitty headphones rasing cost of the phone even by a single $. Cases ...