Weekly poll results: Metal is the material of choice for flagship phones
We asked you what materials should flagships use and the vote is pretty clear Ė metal ll the way. Itís not a surprising result, perhaps, metal has long been the premium material for phones, even before smartphones came around.
Metal certainly has upscale feel, but on a more practical note, it has a good chance to survive falls (where something like plastic would bend and crack the inflexible screen glass).
Anyway, a metal frame is most important Ė phones tend to fall on their edges. Still, a metal frame with a glass back (e.g. Xperia X, Galaxy S) isnít a highly popular option, it ranked third. Plastics came last but not dead last Ė itís 13% vs. 19% for plastic vs. glass.
Many of you think that if youíre paying flagship prices, thereís no excuse for manufacturers not to use high-end materials. Many are curios to see titanium (Essential phone), sapphire (HTC U Ultra), carbon fiber and other exotics.
There were a few suggestions of vibranium, but those phones are reserved for Avengers only.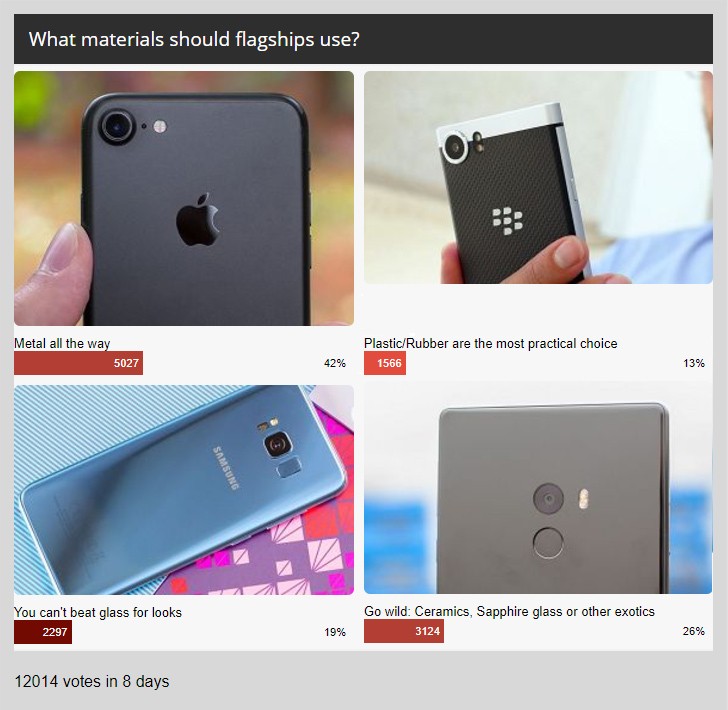 When we asked the same question two years ago, the results were fairly similar. The support for Metal has softened since then, but plastic (14%) and glass (18%) barely moved.
Leather fell out of favor with manufacturers so it wasn't included this time (its share, plus some of Metal's share went to the "exotic materials" vote).
k
Cermets, the practical version of what you describe, still crack. Putting mesh in will just hold the cracked pieces together.