Most people upgrade their phones every two years – half the voters in our poll do just that. It makes sense, most carriers lock you into a 2-year contract. And even if you buy a phone SIM-free, most phone makers are on a tick-tock upgrade cycle.
You know how it goes – iPhone 6, iPhone 6s, iPhone 7... well, the iPhone 8 is 7s in all but name. Then there's the Galaxy S6 – new design but with issues, which the S7 fixed. The Galaxy S8 brought a new design and in a couple of weeks, the S9 will refine it.
Then there's a nearly even split between people who change phones every year and those who do so every three years or more. That ties into the previous poll, which showed that most people expect 3 years of software updates.
If you change your phone two years after it launched, an extra year of software support will up its resale value. Alternatively, if you buy a phone late in its life cycle (when it's cheap), then you know you'll get two years of fresh software.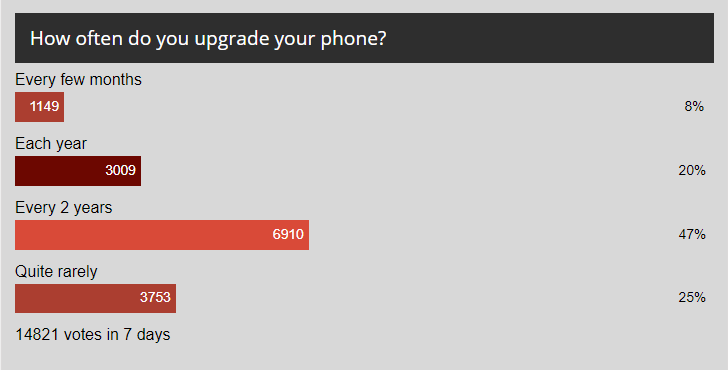 k
yey, I know that from Top Gear and that is really stupid. But still, a lot of money for a phone. But agree, display is great. I always liked AMOLED(OLED), and that is why I own few models of samsung. But still great concern about burning, but if you ...
I'm with you on the buttons thing, the whole swipe up from the bottom thing is nowhere near as good as a nice, physical home button. That being said, I find it's a brilliant phone, and the screen is fantastic. For the record, in Ireland it's mu...
ADVERTISEMENTS