Weekly poll results: Yes, in-display fingerprint readers are the future
There's a growing number of phones with in-display fingerprint readers – most coming from vivo, but with participation from Xiaomi, Oppo and Meizu too (and some interest from Huawei).
Those companies sniffed out the coming trend before anyone else. You could say that it was obvious, the cool factor alone would push companies to adopt in-display readers once the tech was ready.
But Apple is the trend-setter and Apple declared that fingerprint readers are out, 3D face scanners are the new hotness. Going by rumors for the 2018 generation of iPhones, it seems that Cupertino will double down on that bet.
Now think of all companies that adopted the notch without being ready for it – i.e. without having a design that eliminates the chin. They could just as easily have jumped onboard with face scanners (and many did with varying degrees of success). But those are just "me too" launches, Android smartphone design is headed elsewhere.
"Teardrop" notches are quickly becoming a thing and they just don't have the room for a 3D face scanner. Which means a fingerprint reader is a must and as our poll shows, the vast majority of people want it embedded in the display.
At the moment, this means that an AMOLED display is required, though for most that's a plus. And even if you prefer LCDs, Qualcomm will eventually finish work on its ultrasonic fingerprint readers.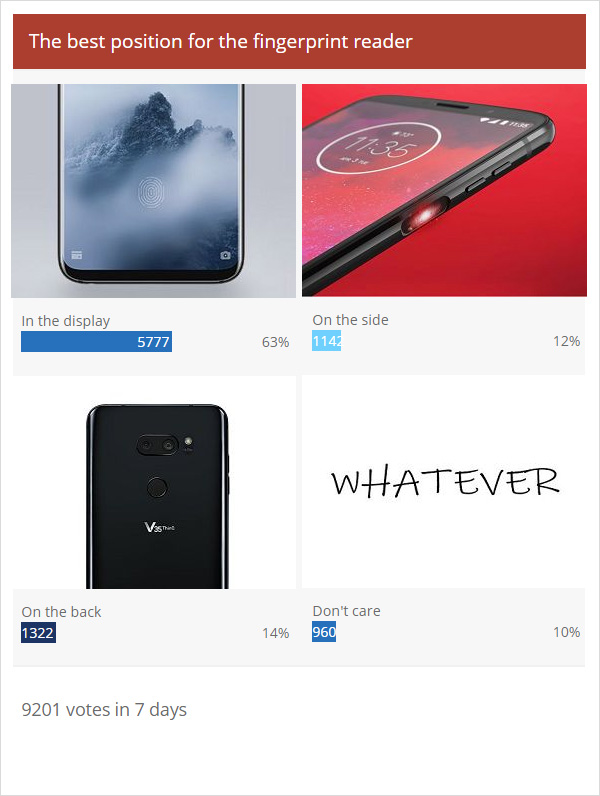 O
Weak UI, Poor build quality and short life-span... that's my opinion of BBK phones, its centered around selfie dorks.
O
Im gonna say that its optional, I don't use a wallet case, hence the reason I chose the models with FPscanner on the back...