As we mentioned around this time last month, Apple's Philip Schiller confirmed that the once mythical white iPhone 4 would indeed be finally hitting the shelves ahead of the long run up to the arrival of the iPhone 5.
With this in mind, it begs the question, how many people are still waiting for this? It's a fair assumption that anyone who wanted to get their hands on an iPhone 4 probably bought one between the middle and end of 2010, with those waiting it out for the white version, giving up by Christmas and then joining the happy hordes of classic black iPhone 4 users.
That being said, Apple will most likely always have a stream of people wanting their latest works and for those in the UK it looks like these offerings could arrive, courtesy of Three as soon as April 20th.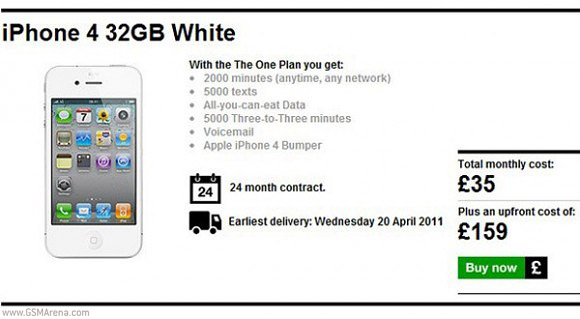 The white iPhone 4 as it appeared on 3's website
The white iPhone 4 has been listed on their site for a little while now, but more recently you've been able to add it to your basket and those over at thenextweb.com even got a glimpse of a unique purchase screen that quoted the earliest delivery as two days from now, April 20th.
With the kind of short life span that the white iPhone 4 will inevitably get (especially with the looming announcement of the iPhone 5), it's almost surprising that Apple hasn't decided to make some announcements about this.
N
They only madeit this way, so that noone anymore but Apple fanboys buys a white coloured accesory for their phone or walkman :LOL
S
no one has sold a WHITE iphone 4 in the UK. Yes it has been on websites coming soon. But never has one been sold!! dont put stuff on here if you actually have no proof or real knowledge
?
White iPhone 4 are not available in the UK and never have been. I believe they'll be available from networks in May.
ADVERTISEMENTS