Windows 10 for smartphones - which is officially known as Windows 10 Mobile - will launch in Q3 this year, according to a report from Neowin, which cites a slide (shown below) of an alleged presentation from Microsoft.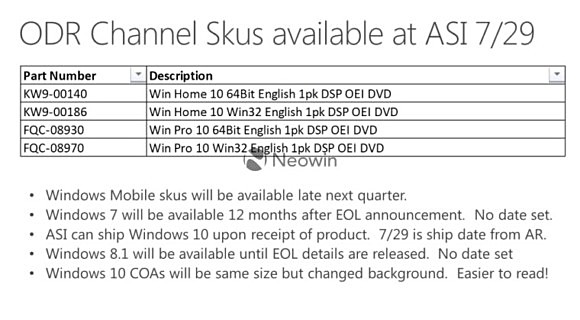 As can be seen, the slide mentions that the mobile OS will arrive in "late next quarter", which means towards September-end. However, it's quite possible that regular consumers might have to wait a little more given that the presentation was prepared for one of the software giant's partners.
Meanwhile, if you aren't already aware, Windows 10 is set to officially arrive on July 29.
Via
e
I agree with u buddy...they really need to upgrade their os...
s
windows phone 10 also does not providing call recording, screen recording features. backgroung downloading not possible.If you switch from one app to other app, it will stops working.So, there is no difference if windows phone 10 launched.windows pho...
?
what's that???? I have never used an iphone so I don't miss anything.. using windows phone and have tried my frnds android phones.. may be it has zero or less lags but to be frank WP is also not complete. many features has been removed from old windo...