Properly good AMOLED display
The Mi 10 Lite 5G uses a 6.57-inch AMOLED display, seemingly the same one found on the Redmi 10X and 10X Pro. It's a 0.1" bigger diagonal than the 6.47-inch panels on the Mi Note 10 family. The increase comes from the slightly stretched aspect ratio - the Mi 10 Lite 5G's display has a resolution of 1080x2400px in a 20:9 aspect, compared to the 1080x2340px 19.5:9 units used on the Mi Note 10s. A minor increase in density sees that number go up to 401ppi, 398ppi on the 6.47-inch displays.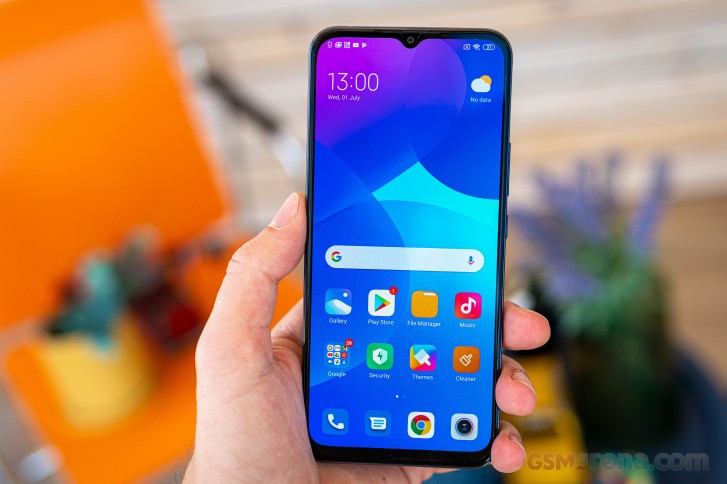 6.57 or 6.47 inches, midrange Xiaomi AMOLED displays are in the same ballpark when it comes to brightness, and that applies to most other OLEDs in the segment as well. We measured 610 nits with the phone in auto brightness mode and the ambient light sensor under direct light and 442nits with the auto toggle in its off state.
On top of the usual manual and auto modes, there's also a sunlight mode. It's available only when the auto toggle is disabled, and it effectively lets you control the brightness manually most of the time, but the phone will auto boost it in very bright ambient conditions only - to the same level as in the auto mode.
Display test
100% brightness
Black,cd/m2
White,cd/m2
Contrast ratio
Xiaomi Mi 10 Lite 5G
0
442
∞
Xiaomi Mi 10 Lite 5G (Max Auto)
0
610
∞
Xiaomi Mi Note 10 Lite
0
424
∞
Xiaomi Mi Note 10 Lite (Max Auto)
0
596
∞
LG Velvet
0
405
∞
LG Velvet (Max Auto)
0
617
∞
Samsung Galaxy A51 5G
0
410
∞
Samsung Galaxy A51 5G (Max Auto)
0
642
∞
Motorola Edge
0
416
∞
Motorola Edge (Max Auto)
0
595
∞
vivo iQOO 3 5G
0
518
∞
vivo iQOO 3 5G (Max Auto)
0
848
∞
Xiaomi Poco F2 Pro
0
516
∞
Xiaomi Poco F2 Pro (Max Auto)
0
854
∞
Sony Xperia 10 II
0
379
∞
Sony Xperia 10 II (Max Auto)
0
520
∞
Oppo Reno3 Pro 5G
0
510
∞
Oppo Reno3 Pro 5G (Max Auto)
0
819
∞
There are all sorts of color settings on the Mi 10 Lite 5G. In the Color scheme menu, you can choose between the default Auto mode, Saturated mode, and Original color mode, each of these having Default/Warm/Cool options and a color wheel for further tweaking that manually.
And because that may not be enough, there's also an Advanced settings submenu, with four additional presets (Enhanced/Original/P3/sRGB) and RGB sliders, Hue, Saturation, and Value sliders, and Contrast and Gamma sliders. Sliders galore. Too many sliders, in fact. Thankfully, there's a 'Restore defaults' button, for when you realize you've changed more than you'd like.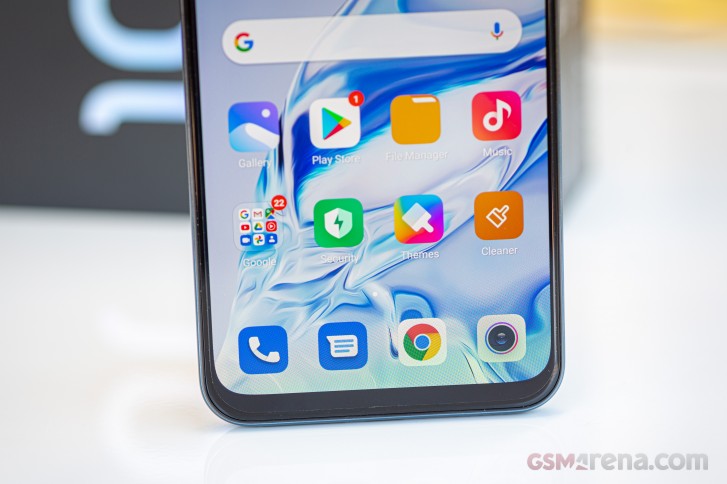 In the out-of-the-box Auto mode, we measured an average dE2000 of 3.6 when examining out DCI-P3 test swatches. That improved to 2.3 when going for the pre-set Warm mode, and nudging the point on the color wheel a little bit, we got to a 1.9 average. Saturated mode returned virtually the same results.
Original color mode got us an average dE2000 of 2.1 for sRGB test swatches, which was way better than we got out of the Advanced>sRGB profile (3.8 average). Advanced>P3 was also less accurate to the DCI-P3 targets than the plain Auto mode (4.5 vs. 3.6 average dE2000).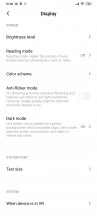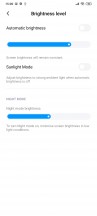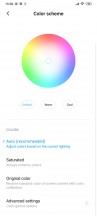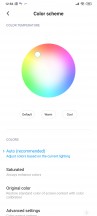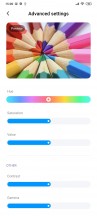 Display settings • Sunlight mode • Color settings • Maximum DCI-P3 accuracy • Advanced settings
The Mi 10 Lite 5G's display is HDR10-capable. We tried Netflix, Amazon Prime Video, and YouTube, and all three happily served HDR content to the phone.
The one thing this display is missing, is a high refresh rate - it's capped at 60Hz. Admittedly that would have been too much to ask on the phone that was launched as the most affordable 5G handset in the western world at €350 and is now a few bucks cheaper.
Xiaomi Mi 10 Lite 5G battery life
The Mi 10 Lite 5G relies on a 4,160mAh battery, a relatively small number for a 5G-capable midranger. The Galaxy A51 5G has a bit higher capacity at 4,500mAh, while the recently announced Moto G 5G Plus packs a more sizeable 5,000mAh cell. Pricier 5G models also have a few extra mAhs - the Motorola Edge stands at 4,500mAh, the LG Velvet is the closest to the Mi 10 Lite 5G with its 4,300mAh battery.
Having said that, the Mi 10 Lite 5G posted properly excellent results in our standard testing. The 15-hour result in web browsing is only matched by the Galaxy A51 5G (14:30h), while the Velvet (12:19h) and the Edge (12:52h) are noticeably behind, if not too shabby themselves. With upwards of 21 hours of looping videos, the Mi 10 Lite 5G is out of reach for even the Galaxy (18:35h), the Moto Edge trails another hour behind (17:29h) and the Velvet (15:37h) is least binge-watching-friendly. All of these are more than solid numbers, but the Xiaomi's stand out as even solid-er, despite the lowest capacity of the bunch.
3G voice calls on the Mi 10 Lite 5G returned a 26:34h result, again beating the Galaxy (22:15h) and the Velvet (24:53h), but well short of the Moto Edge's nearly 40 hours (which is an excessive amount of talk time if you ask us). We haven't tested the Moto G 5G Plus yet to include in these comparisons.
In the end, the Mi 10 Lite 5G posted an overall Endurance rating of 103h.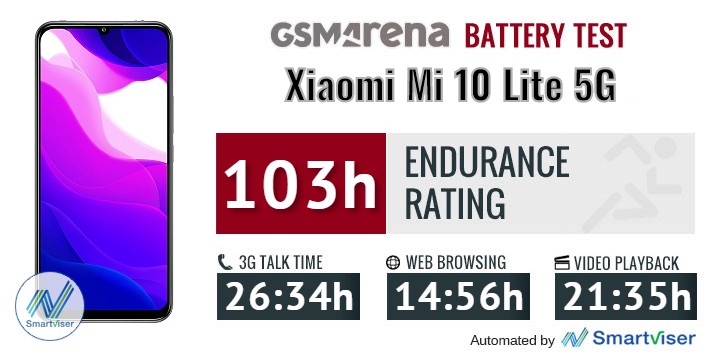 Our battery tests were automated thanks to SmartViser, using its viSer App. The endurance rating above denotes how long a single battery charge will last you if you use the Xiaomi Mi 10 Lite 5G for an hour each of telephony, web browsing, and video playback daily. We've established this usage pattern so that our battery results are comparable across devices in the most common day-to-day tasks. The battery testing procedure is described in detail in case you're interested in the nitty-gritty. You can check out our complete battery test table, where you can see how all of the smartphones we've tested will compare under your own typical use.
The included charger that's rated at 9V/2.23A, 12V/1.67A, and 10V/2.25A, would charge the Mi 10 Lite 5G fully in 1:16h, with 55% on the battery indicator at the half-hour mark. While not strictly super-fast, those are, in a way, class-leading numbers - the Galaxy A51 5G takes 1:30 for a full charge, the Velvet needs 1:59h, while the Moto Edge requires precisely double the time that the Mi 10 Lite 5G needs.
There's no wireless charging capability on the Mi 10 Lite 5G, the Mi 10 and Mi 10 Pro do get that. Of the bunch we've been mentioning above, only the Velvet has the induction coils, but it does cost double the Mi 10 Lite 5G's price.
Speaker test
The Mi 10 Lite 5G is equipped with a single loudspeaker on the bottom, same as the regular Mi Note 10 and the Mi Note 10 Lite. It's the same concept at least, as the Mi 10 Lite 5G has distinctly better sounding output with some semblance of bass to it and clarity the other non-flagship Mis can't muster. In terms of loudness, the Mi 10 Lite 5G is in their 'Average' ballpark, however.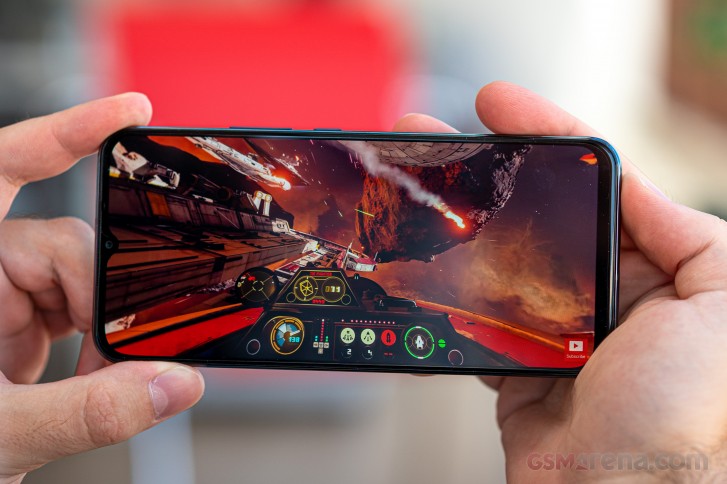 Use the Playback controls to listen to the phone sample recordings (best use headphones). We measure the average loudness of the speakers in LUFS. A lower absolute value means a louder sound. A look at the frequency response chart will tell you how far off the ideal "0db" flat line is the reproduction of the bass, treble, and mid frequencies. You can add more phones to compare how they differ. The scores and ratings are not comparable with our older loudspeaker test. Learn more about how we test here.
Audio output quality
We've recently discontinued our audio output quality test.
The reason for that is that most phones that arrived for testing were already excellent in this regard and whatever difference there was, it was marginal and probably indistinguishable to anything but our lab equipment.