Xiaomi Mi 9 arrived on Wednesday in China and today was the first flash sale at its domestic market. The phone was launched at 10 AM sharp and all the available units were gone in 53 seconds, the company boasted on Weibo.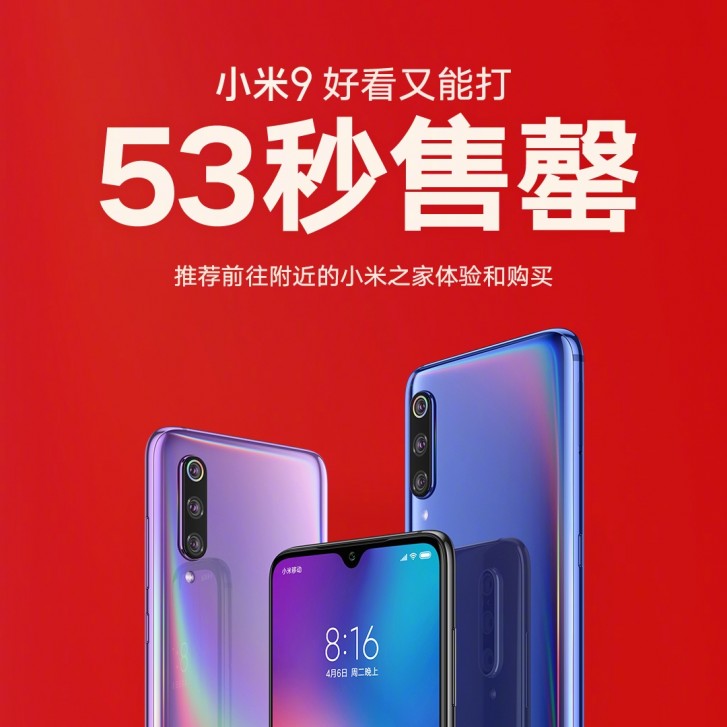 Xiaomi Mi 9 comes with a 48 MP main shooter in the triple camera setup, UD fingerprint scanner, and slick design. Although the company did not announce the exact amount of units sold, we are pretty sure they were aplenty, it's just demand was higher than supply.
The phone is among the first with a Snapdragon 855 chipset in the world and in our review we found it to be thoughtfully designed and nicely executed flagship. You can purchase it from the Chinese retailer JD or mi.com if you want a Chinese unit and you want it fast.
If you are in Europe and you're lucky to be from Spain, Italy, or France, you can already pre-order the device, with shipments for a Xiaomi Mi 9 with 6/64 GB memory beginning later this week.
Well wait for official sale. On some pages this phone can be very cheap. And its official price in china will be 2999 CNY which translates to 393 euros. But european price will be from 430 up to 460 euros depends on coutry you shop in and th...
D
In China, this phone are "pre-sold" before it even open for public bidding. This is monopolized by deader who has connection with the company selling them. They will then sell at a higher price in Tao Bao or any market. This has been going on for yea...
X
And you're copy of other anonymous who write just like that, on every Xiaomi article in last 10 days. Do you work for food here, to post such nonsense everytime, or what? Ads does not exist in Xiaomi phones because everybody with IQ more than 50 can ...
ADVERTISEMENTS