Vanilla Android Pie
Since it's part of the Android One family, the Xiaomi Mi A3 boots a clean Android OS install and, of course, it's rocking the latest Android 9.0 Pie version.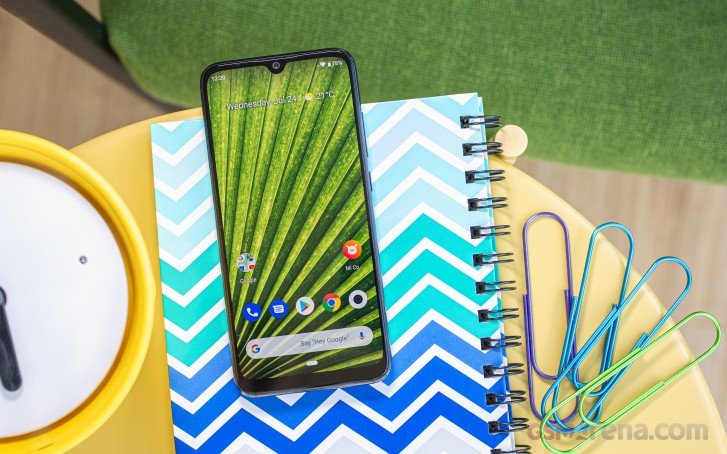 There is the Pie notification shade, quick toggles area, the Pie task switcher and its multi-windows capabilities, and even the list of recent apps in the task switcher that can be expanded to reveal the full app drawer.
The launcher does also include an optional Google feed screen on the far left and lends itself to a certain degree of customization, like editing number or rows and columns and toggling things like notification dots, app suggestions and home screen rotation.
There's only one pill-like button in the center - tapping it once takes you to the home screen, a swipe up brings out the recent apps menu, swiping to the left acts as a back button while swiping to the right quickly switches back to the last opened app. The quick switch works pretty well which is not always the case with Android implementations. You can also go with Android's default navigation that includes a back button and the pill-shaped key.
You can unlock the phone via the optical under-display fingerprint scanner. The reader is very quick to set up and works snappily after that. The accuracy is superb, too, and overall, it's great for your daily unlocking.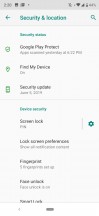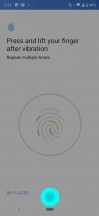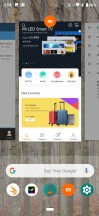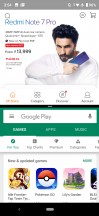 Security options • Fingerprints • Multi-tasking • Multi-tasking
You can also set up face unlock in addition to it - it's equally fast as the Mi A3 wakes up the moment you pick it up, but not as secure. Note that the face unlock option may not be available in all regions.
Music, Movies, Files, Drive - everything is handled by Google's default apps. There is FM radio support and app on the Mi A3. You can also install the Mi Remote app from the Play Store to use the IR blaster on top of the phone.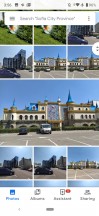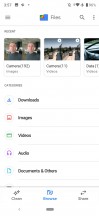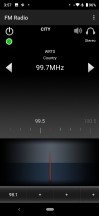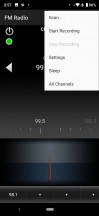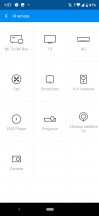 Photos • Files • FM radio • FM radio • Mi Remote
Performance and benchmarks
Xiaomi Mi A3 is the first smartphone we meet to be powered by the Snapdragon 665 chipset. It's a minor upgrade over the Mi A2's Snapdragon 660 chip but given the lowered resolution we expect wonders in gaming.
So, the new Snapdragon 665 chip is based on the more efficient 11nm manufacturing process compared to the 14nm Snapdragon 660. It has the same processor as the S660 - an octa-core Kryo 260 CPU with 4x2.0 GHz Kryo 260 Gold (Cortex-A73 derivative) & 4x1.8 GHz Kryo 260 Silver (Cortex-A53 derivative). Well, almost the same - the high-performance Kryo cores are actually clocked 200MHz lower than the same on the Mi A2's S660.
There is a new Adreno 610 GPU, which isn't more powerful than the Adreno 512 inside the old 660 chip but should deliver similar performance for 20% less battery.
The Snapdragon 665 has a new DSP and a new ISP for 48MP camera support. Its modem is the same as on the S660, though.
Now, let's run some benchmarks, shall we?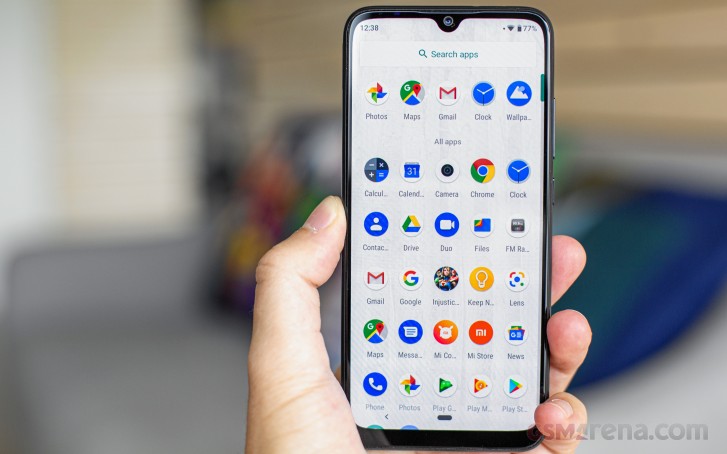 The single core performance is nothing to phone home about - it's on par with other A73-based cores, but the score is a bit down from the Galaxy A50 and Redmi Note 7 due to the lower CPU clock.
GeekBench 4.1 (single-core)
Higher is better
Xiaomi Redmi Note 7 Pro
2404
Xiaomi Mi 9 SE
1905
Samsung Galaxy A50
1715
Xiaomi Redmi Note 7
1650
Xiaomi Mi A2
1617
Google Pixel 3a XL
1615
Huawei P30 Lite (perf. mode)
1576
Xiaomi Mi A3
1531
Samsung Galaxy A40
1325
Xiaomi Mi A1
877
Sony Xperia 10
848
The multi-core performance is excellent - the phone did better than all other smartphones with 4 x A73 cores even though it's running on a lower frequency.
GeekBench 4.1 (multi-core)
Higher is better
Xiaomi Redmi Note 7 Pro
6620
Xiaomi Mi 9 SE
6017
Xiaomi Mi A3
5686
Huawei P30 Lite (perf. mode)
5549
Xiaomi Redmi Note 7
5411
Samsung Galaxy A50
5396
Google Pixel 3a XL
5176
Xiaomi Mi A2
4625
Xiaomi Mi A1
4292
Samsung Galaxy A40
4112
Sony Xperia 10
3985
The Mi A3's Snapdragon 665 has Adreno 610 GPU, which should be similar to S660's Adreno 512 but more power efficient. Well, it turned out that its raw performance is actually a bit lower than on the Snapdragon 660's GPU, so performance upgrade is definitely out of the question here.
GFX 3.0 Manhattan (1080p offscreen)
Higher is better
Xiaomi Mi 9 SE
37
Google Pixel 3a XL
29
Samsung Galaxy A50
24
Xiaomi Mi A2
22
Xiaomi Redmi Note 7
22
Xiaomi Redmi Note 7 Pro
22
Huawei P30 Lite (perf. mode)
21
Xiaomi Mi A3
20
Sony Xperia 10
13
Samsung Galaxy A40
13
Xiaomi Mi A1
9.8
GFX 3.1 Manhattan (1080p offscreen)
Higher is better
Xiaomi Mi 9 SE
26
Google Pixel 3a XL
20
Xiaomi Redmi Note 7 Pro
17
Xiaomi Mi A2
15
Xiaomi Redmi Note 7
15
Huawei P30 Lite (perf. mode)
14
Samsung Galaxy A50
14
Xiaomi Mi A3
13
Sony Xperia 10
9.6
Samsung Galaxy A40
8.1
Xiaomi Mi A1
6.4
3DMark SSE 3.1 Unlimited
Higher is better
Xiaomi Mi 9 SE
2218
Google Pixel 3a XL
1748
Xiaomi Redmi Note 7
1409
Xiaomi Mi A2
1380
Samsung Galaxy A50
1353
Xiaomi Redmi Note 7 Pro
1220
Xiaomi Mi A3
1131
Huawei P30 Lite (perf. mode)
988
Sony Xperia 10
903
Samsung Galaxy A40
647
But the Mi A3 has one huge advantage when it comes to performance - a lower resolution screen. And it pays off in a major way by helping the GPU deliver a flagship-grade GPU performance.
GFX 3.0 Manhattan (onscreen)
Higher is better
Xiaomi Mi A3
34
Xiaomi Mi 9 SE
34
Google Pixel 3a XL
28
Xiaomi Mi A2
21
Samsung Galaxy A50
21
Xiaomi Redmi Note 7 Pro
21
Huawei P30 Lite (perf. mode)
19
Xiaomi Redmi Note 7
19
Samsung Galaxy A40
12
Sony Xperia 10
11
Xiaomi Mi A1
9.7
GFX 3.1 Manhattan (onscreen)
Higher is better
Xiaomi Mi A3
27
Xiaomi Mi 9 SE
24
Google Pixel 3a XL
19
Xiaomi Redmi Note 7 Pro
15
Xiaomi Mi A2
14
Huawei P30 Lite (perf. mode)
13
Samsung Galaxy A50
13
Xiaomi Redmi Note 7
13
Sony Xperia 10
7.8
Samsung Galaxy A40
7.4
Xiaomi Mi A1
6.3
GFX 3.1 Car scene (onscreen)
Higher is better
Xiaomi Mi 9 SE
14
Xiaomi Mi A3
13
Google Pixel 3a XL
11
Xiaomi Mi A2
8.6
Samsung Galaxy A50
8
Xiaomi Redmi Note 7 Pro
7.9
Xiaomi Redmi Note 7
7.7
Huawei P30 Lite (perf. mode)
6.9
Samsung Galaxy A40
4.6
Sony Xperia 10
4.3
Xiaomi Mi A1
3.5
Finally, the compound AnTuTu test puts the Mi A3 on par with the Redmi Note 7, P30 Lite, and the Galaxy A50, while it's not that far away from the Pixel 3a XL. We'll take this score as a good thing.
AnTuTu 7
Higher is better
Xiaomi Redmi Note 7 Pro
180754
Xiaomi Mi 9 SE
180057
Google Pixel 3a XL
159110
Samsung Galaxy A50
144574
Huawei P30 Lite (perf. mode)
141600
Xiaomi Mi A3
140633
Xiaomi Redmi Note 7
139075
Xiaomi Mi A2
130927
Samsung Galaxy A40
106388
Sony Xperia 10
89697
The Mi A3 is plenty fast and delivers about the same performance as its price bracket peers. It is a very dependable performer thanks to its Snapdragon 665 chip and that HD screen. It's as great for gaming as it is for daily operations and browsing the social media.
We didn't notice any hot spots around the Mi A3 even when running those benchmarks for longer duration and there was no throttling at all. Overall, the A3 offers great performance for the class and nobody should be experiencing major hiccups whatever the tasks at hand. And it also turned out to be a great gaming device on the budget, which may win some new fans to the series.