Xiaomi's new telephoto lens promises smooth zoom, better light sensitivity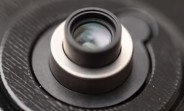 During today's Xiaomi Developer Conference in Beijing, the company introduced a new telescopic lens technology that could potentially change smartphone photography in the not so distant future. And by saying not so distant future, we really mean it because the Chinese tech giant said that the tech is ready for implementation in real products.
The benefits of having a telescopic lens are numerous. For starters, Xiaomi says its lens can collect 300% more light than traditional ones, which would greatly improve the camera performance, particularly in low-light scenarios. Advanced stabilization is also at hand with this particular camera improving not only stability but sharpness by 20% too.
In the video, we can see that the lens extends automatically and you can even capture amazing macro stills. We can also see how this lens would eliminate the need of having so many cameras on the back of a phone. A good, high-quality sensor can be paired with such tech and cover multiple focal lengths.
As mentioned earlier, the tech is in its final stage of testing so we should start seeing the first devices with a telescopic lens pretty soon.
Source (in Chinese)
N
I guess this won't come to their flagship smartphones since it will mess up IP ratings, but from technical standpoint this is some great showing from Xiaomi nonetheless. Maybe they're preparing to launch a compact phone camera lineup that i...
Because you have a great knowledge allowing you to affirm what I know or not, obviously. I literally tear down informations and explain in details many stuff, simply, with exemples, often getting answers about how long my comments are as a result, ...
Let me explain one more time politely. You are currently opposing any comment I make about no front facing camera, regardless if they are polite or not. And, as I already explained to you many times, I bash so hard those techs (front facing ca...