ZTE is heading to IFA and there's a good chance it will bring out the much-awaited Axon 9. A seemingly official image shows the design of the Pro version, which differs quite a bit from what we saw way back in February.
The biggest change from the early renders is the adoption of a notched screen with a single selfie camera. Also, the dual camera on the back has shifted to a corner location.
The reason that the Axon 7 was popular with fans is that it offered a then-flagship Snapdragon 820 chipset, QHD Super AMOLED screen and beefy stereo speakers at a price that competed with the OnePlus 3.
The ZTE Axon 9 is set to update the recipe with a tall QHD+ AMOLED display, Snapdragon 845 chipset and a recently cleaned out Android experience. There should be regular and Pro versions of the phone, but there's no info on the differences yet.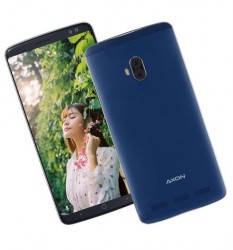 Early rumors claimed the Axon 9 will look like this
The Axon 9 will be unveiled on August 30 - a day ahead of the official IFA start.
J
MicroLED. you are joking, why are u judging ZTE with such high standards.. u r just commenting for the sake of being a prick.. buy whatever u feel is your money's worth
E
Looks kinda like your run of the mill huaivopponovomi. Guess we wait for the OS news and price tag. A big fat skin would kill this thing as would stupid price. Kinda seems like they killed the whole ZTE part of the ZTE Axon 9 though.
ADVERTISEMENTS