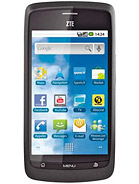 ?
is this the zte racer? if it is then its already out in the uk for £109 on the three network. its one of the cheapest and simplest to use android phones out so if your looking for a cheap android phone with a basic camera and free windows live messenger and skype-to-skype calls then i reccomend you buy this handset!
K
ZET has to pull up in design and makes as there are many new brands coming out in the market but this handset looks like a new begining of ZTE
Total of 944 user reviews and opinions for ZTE Blade.