ZTE at MWC 2016
ZTE Blade V7, Blade V7 Lite and Spro Plus hands-on: ZTE at MWC 2016
ZTE announced two smartphones at the MWC in Barcelona this year - the ZTE Blade V7 and Blade V7 Lite. Both phones are made of metal, and the manufacturer tried to make them as thin as possible.
ZTE Blade V7
The Blade V7 is the bigger model with a 5.2" 1080p display. It runs on the MT6753 chipset with an octa-core processor and 2GB of RAM.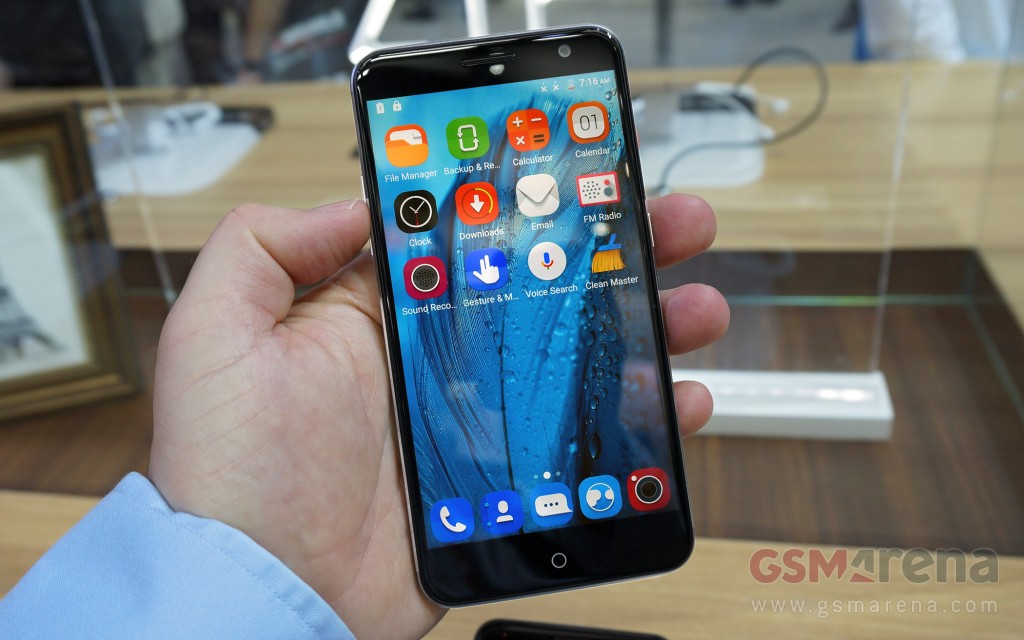 ZTE Blade V7 has the better rear camera - a 13MP one with a dual-tone dual-LED flash. Its selfie shooter is a 5MP, but it can use the screen as a flash.
We found the Blade V7 at ZTE's booth, and it's indeed quite thin and lightweight. The bezels are rather small, and the 2.5D glass makes them look even tinier than reality. The phone is a pleasure to handle as most of the metal-clad smartphones are nowadays, and we like the design.
The Blade V7 runs on Marshmallow and is indeed a looker. If priced right it indeed has the means to sell well. ZTE says it will launch in summer 2016 in Germany, Spain, South Africa, Ethiopia, and Mexico in the middle of 2016.
ZTE Blade V7 Lite
The ZTE Blade V7 Lite may look like an inferior version of the Blade V7, but adds a fingerprint scanner and a better 8MP snapper with an LED flash at the front.
The Blade V7 Lite has a 5" 720p display and is powered by an MT6735 SoC with a quad-core processor and 2GB of RAM. Its rear snapper is an 8MP AF one coupled with a single LED. The front shooter, as we mentioned above, utilizes an 8MP FF sensor with a dedicated LED flash.
The phone is also made of metal, the design is likable and simplistic, while the fingerprint scanner is on the back, just below the camera.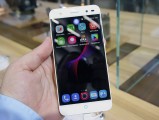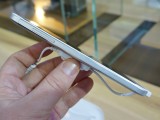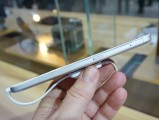 Handling the ZTE Blade V7 Lite
The Blade V7 Lite is also pleasurable to handle and feels even lighter in hand. The Android Marshmallow runs hassle-free and the proprietary launcher isn't heavy, yet it offers quite a lot pre-installed apps.
ZTE is targeting the Blade V7 Lite for a spring launch in Russia, followed by Mexico, Spain, Germany, and Thailand. Hopefully, ZTE puts a nice price tag on it, too.
ZTE Spro Plus hands-on
ZTE brought out a most unusual, versatile device - the ZTE Spro Plus smart projector. The company has a couple of these, but we still can't get used to them.
It's a projector - a 500-lumen DLP projector with WXGA resolution. It will project an 80" image at 2.4m distance. And yet it features a large 8.4" AMOLED display (2,560 x 1,600). That's much bigger and better than you would normally get on a projector (you have an up to 80" image on the wall, remember?).
Android 6.0 Marshmallow allows you to almost use the Spro Plus as a tablet. "Almost" as it's a bit large to carry around (228.8 x 150 x 24.8mm). It does pack a Snapdragon 801 or Snapdragon 625 chipset with 3GB of RAM and 32GB or a whopping 128GB built-in storage (and either way you get a microSD slot).
Anyway, you get pretty awesome audio with stereo 4W Harman speakers with Dolby. You can buy a Bluetooth Speaker Box if that's not enough. And the show will go on for quite a while with a 12,100mAh battery.
The ZTE Spro Plus has a version with LTE connectivity (so you can use it as a hotspot with 2.4GHz and 5GHz a/b/g/n/ac networking). There's a Wi-Fi version as well. Anyway, you can plug in a USB camera (odd, isn't it?) and VoLTE so you can do calls and even video chats.
R
Mobile hot charge is fast
D
You can get it handset only on online shopping websites like Amazon or eBay but if you live in the UK, you can get it exclusive from Three on contract. The cheapest contract is £9 a month with 500gb of data, 300 mins and unlimited texts.
z
push power button + volume down at once