Windows Prime
Acer Liquid Jade Primo review: Windows Prime
Display
The Acer Liquid Jade Primo is equipped with a 5.5-inch FullHD display, and the math results in a 401ppi pixel density. It's an AMOLED panel, which makes the live tiles really pop out on the default black backgrounds. The Diamond Pentile subpixel arrangement is par for the course with such displays.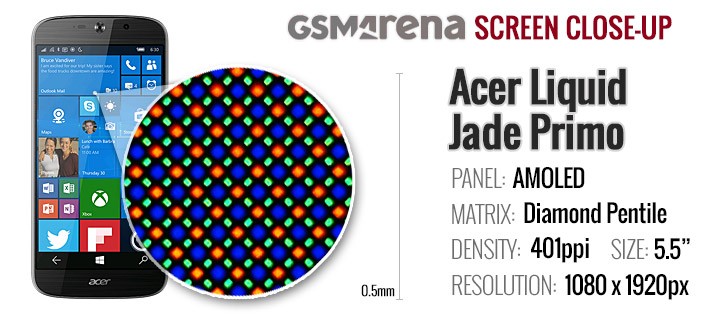 The Jade Primo posted an okay maximum brightness at 372 nits - AMOLEDs don't typically fly high in this respect. Black pixels are kept unlit, thus contrast is infinite, which can otherwise be classified as excellent. What is rather disastrous is the minimum level of brightness. The Jade Primo's lowest setting results is 70nits, which potentially could be eye-poking in a dark environment.
Display test
100% brightness
Black, cd/m2
White, cd/m2
Contrast ratio
Acer Jade Primo
0.00
372
∞
Microsoft Lumia 950
0.00
328
∞
Microsoft Lumia 950 (max auto)
0.00
626
∞
Microsoft Lumia 950XL
0.00
335
∞
Microsoft Lumia 950XL (max auto)
0.00
705
∞
LG G4
0.43
532
1238
Samsung Galaxy A7 (2016)
0.00
425
∞
Samsung Galaxy A7 (2016) max auto
0.00
536
∞
Samsung Galaxy A9 (2016)
0.00
427
∞
Samsung Galaxy A9 (2016) max auto
0.00
609
∞
Sony Xperia Z5
0.59
583
986
With an average DeltaE of 5.8, the Jade Primo is a decent performer when it comes to color rendering accuracy, but it's not what you'd call properly calibrated - a value lower than 3 is an indication of that. Still, those are truer colors than Samsung's latest flagships produce in default mode, though admittedly they can achieve truly excellent results in other modes, which however lack here. Unlike on the Lumias, there is no way to tune the color rendering or the screen color temperature on the Jade Primo.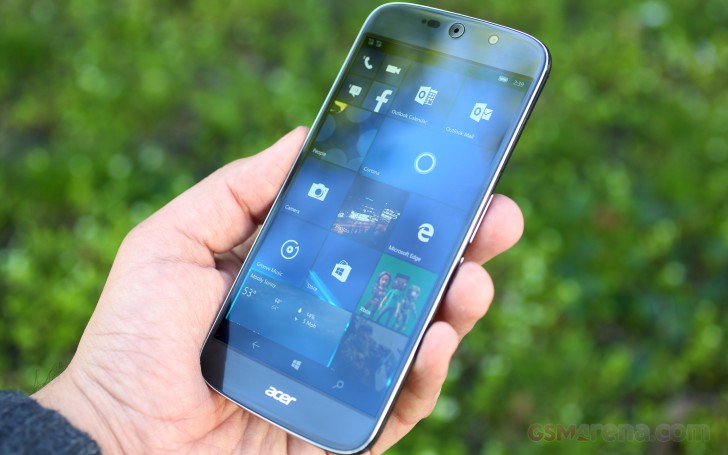 AMOLED is typically a great recipe for outdoor visibility and we expected the Jade Primo to ace that test. Indeed it did good, on par with the Lumia 950, but that's not exceptional performance for an AMOLED panel.
Sunlight contrast ratio
Samsung Galaxy S6 edge+
4.615
Samsung Galaxy S7 edge
4.439
Samsung Galaxy S7
4.376
HTC One A9
4.274
Samsung Galaxy A3
4.241
Samsung Galaxy S6 edge
4.124
Samsung Galaxy Note5
4.09
Huawei Nexus 6P
4.019
OnePlus X
3.983
Oppo R7s
3.964
Samsung Galaxy A7 (2016)
3.918
Samsung Galaxy A5
3.895
Samsung Galaxy J7 outdoor
3.879
Samsung Galaxy J2 outdoor
3.873
Samsung Galaxy A8
3.859
Apple iPhone 6
3.838
Microsoft Lumia 950XL
3.837
Samsung Galaxy A9 (2016)
3.817
Motorola Moto X (2014)
3.816
Samsung Galaxy A5 (2016)
3.789
Apple iPhone 6s
3.783
Meizu Pro 5
3.781
Microsoft Lumia 650
3.772
Vivo X5Pro
3.706
Samsung Galaxy A7
3.679
BlackBerry Priv
3.645
Apple iPhone 6s Plus
3.53
Acer Jade Primo
3.521
Microsoft Lumia 950
3.512
Oppo R7 Plus
3.499
Samsung Galaxy J7
3.422
Meizu MX5
3.416
Oppo R7
3.32
Samsung Galaxy J2
3.235
Motorola Moto X Play
3.222
Lenovo Vibe Shot
3.113
LG Nexus 5X
3.092
Huawei Mate S
3.073
Microsoft Lumia 640 XL
3.065
Apple iPhone 6 Plus
3.023
Samsung Galaxy Note
2.97
Huawei Mate 8
2.949
LG G5
2.905
HTC One S
2.901
Sony Xperia Z5
2.876
Microsoft Lumia 550
2.851
Sony Xperia Z5 compact
2.784
LG V10
2.744
Xiaomi Redmi 3
2.735
Sony Xperia M5
2.69
Xiaomi Mi 4i
2.641
Xiaomi Mi 4c
2.574
Microsoft Lumia 640
2.563
Oppo F1
2.528
Sony Xperia Z5 Premium
2.525
HTC One
2.504
Sony Xperia M4 Aqua
2.503
Motorola Moto G
2.477
Huawei G8
2.471
Sony Xperia Z
2.462
Huawei Honor 7
2.406
ZUK Z1 by Lenovo
2.382
LG G4
2.317
HTC One E9+
2.305
Alcatel One Touch Hero
2.272
Apple iPhone 4S
2.269
Lenovo Vibe K4 Note
2.254
Sony Xperia C5 Ultra
2.253
Xiaomi Redmi Note 3 (MediaTek)
2.249
Sony Xperia C4 Dual
2.235
Xiaomi Mi Note
2.234
Motorola Moto G (2014)
2.233
LG Nexus 5
2.228
Huawei P8
2.196
Xiaomi Redmi Note 2
2.166
OnePlus Two
2.165
HTC One X
2.158
LG Aka
2.145
Archos 50 Diamond
2.134
Xiaomi Redmi Note
2.119
Huawei P8lite
2.078
Moto G 3rd gen max manual
2.026
Sony Xperia E4g
1.972
OnePlus One
1.961
Meizu m2 note
1.892
BlackBerry Leap
1.892
HTC Butterfly
1.873
ZTE Nubia Z9 mini
1.759
Sony Xperia U
1.758
Asus Zenfone Selfie
1.68
Motorola Moto E (2nd Gen)
1.675
ZTE Nubia Z9
1.659
Motorola Moto E
1.545
Sony Xperia M
1.473
Xiaomi Redmi 2
1.311
Sony Xperia C
1.283
Meizu MX
1.221
Connectivity
The Liquid Jade Primo is a dual-SIM device, with 2G cellular connectivity on both cards, and 3G/4G on one of them (defined in settings). The second SIM slot is shared with the microSD slot - you can't have both SIMs and a microSD in at the same time. The supported LTE is of Cat. 6 for theoretical speeds of 300Mbps down and 50Mbps up.
You get Wi-Fi a/b/g/n/ac, Wi-Fi Direct and hotspot support. There's GPS with A-GPS, and Bluetooth 4.0, but no FM radio.
One of the best bits about Windows 10 is Continuum - the ability to transform your smartphone into a desktop of sorts just by connecting to an external display and adding peripherals. The Acer Liquid Jade Primo is one of select few smartphones that can do it for the time being - you only have to use the dedicated dock Acer D01, which supposedly will be sold separately. The dock provides power and wired connectivity options, but more on than in the dedicated chapter.
Acer Liquid Jade Primo battery life
A rather modest 2,800mAh battery powers the Acer Liquid Jade Primo. The Lumia 950 has a full 3,000mAh worth of juice, for a smaller (admittedly higher-res) display and same chipset.
The tests didn't really confirm our initial specsheet-based worries, and one area even delivered a pleasant surprise. You can go ahead and call the Primo's endurance in video playback excellent. Thirteen full hours on a 5.5-inch FullHD display with such a small battery is downright impressive. For reference, the Lumia 950 is good for less than 10 hours in this test.
Surfing the web, the Jade Primo can last you 7 and a half hours, on par with the Lumia 950 - not really record breaking, but a number we could learn to live with. Microsoft's offering does disappointingly in voice calls (8:25h), while the Liquid Jade Primo would keep on going for 14h - not exceptional, more like average.
With an overall endurance rating of 56h, the Acer Liquid Jade Primo is just average with the notable exception of exemplary video playback longevity.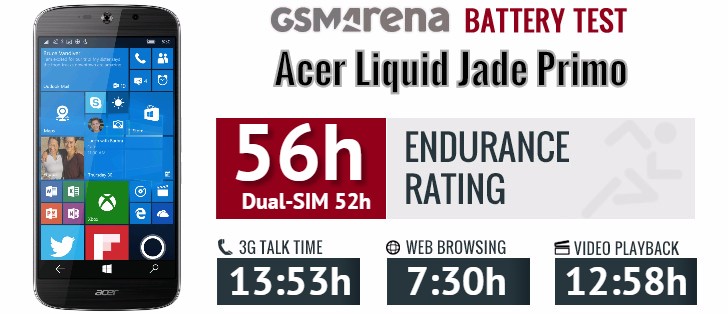 Our proprietary rating denotes the number of hours the phone will be operational if you are to make an hour of 3G talks, web browsing and video playback per day. Such usage pattern is of course somewhat artificial, but we've established it so our battery results are comparable across devices.
The battery testing procedure is described in detail in case you're interested in the nitty-gritties. You can also check out our complete battery test table, where you can see how all of the smartphones we've tested will compare under your own typical use.