First-class phonebook
The Acer Stream's phonebook is spacious and detailed. It lets you input numbers for work and home, and you can even create custom labels. There is of course an email field and you can assign a custom ringtone.
Adding an IM nickname to the contact is an option too, as well as a postal address, company and job title, several notes, you name it. Quite interesting is the option to redirect calls directly to voicemail.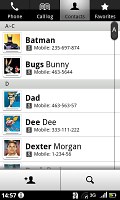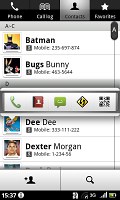 The phonebook: neat and orderly, with fluid kinetic scrolling
There are plenty of details you can assign to each contact, but it all remains perfectly in order. You have all the types listed (numbers, email addresses, etc) and there's a plus sign on the right. Hitting it will add another item of that type.
When viewing a contact, the various details are displayed in portions. There is a Dial number and a Send SMS/MMS tab with the numbers for the contact listed. Each number fills an entire horizontal row so that it's more thumbable.
Email also has a dedicated tab that works just like the ones for numbers. The rest of the information (if any) is displayed underneath.
You can "star" a contact, which puts it in the Favorites tab. Also, in each Gmail account there's a special group called "Starred in Android" where these contacts go automatically.
Searching for a contact in the phonebook is quite easy – just hit the virtual search key and a search box pops up.
Smart dialing, yey!
With the Acer Stream we had no reception blank spots, and sound during calls was admirable. Telephony is now enhanced by Smart dialing. In the Android OS the phonebook, call log and dialer are all part of the same application. Still it's quite convenient to be able to search for a contact straight from the dialing pad
The call log shows all the dialed, received and missed calls all in one.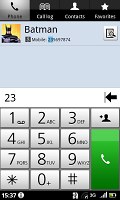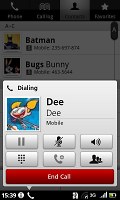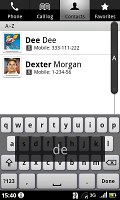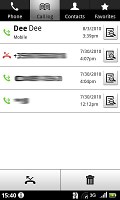 Dialing • searching for a contact • all the calls are stored and displayed en masse
As for loudspeaker performance, the Stream managed to snatch an average score. Here is how it stacks against some of the other devices we've tested. You can find more details about the test itself as well as the full list of tested devices here.
| | | | | |
| --- | --- | --- | --- | --- |
| Speakerphone test | Voice, dB | Pink noise/ Music, dB | Ringing phone, dB | Overall score |
| Samsung I9000 Galaxy S | 66.6 | 65.9 | 66.6 | Below Average |
| Samsung I5700 Galaxy Spica | 66.6 | 62.1 | 75.7 | Average |
| Acer Stream | 63.6 | 65.6 | 75.8 | Average |
| Google Nexus One | 69.9 | 66.6 | 79.1 | Good |
| HTC Hero | 76.7 | 71.9 | 77.7 | Very Good |
| HTC Legend | 78.0 | 74.3 | 79.7 | Excellent |
Messaging made simple
The SMS and MMS department is quite straightforward and simple at first glance. There are no folders here, just a new message button. It doesn't stay like that for long – under that button is a list of all your messages organized into threads.
When viewing a thread, the newest message is placed at the bottom, just like with the iPhone. At the bottom of the display is the tap-to-compose box and the send key, of course. There is a counter on the right which shows the number of available characters as well as number of parts the message will be split into for sending.
Composing a message is a little frustrating since even if you hide the keyboard, the text box still has the same small part of the screen to work with.
To add message recipients, just start typing the desired name or number and choose from the suggestions offered. The list of recipients is displayed by name too.
Any unsent messages and drafts are marked with a red "Draft" label. What we really like is that each thread keeps the text in the tap-to-compose box even if you exit without sending it or explicitly save it. There are no "undelivered messages" anymore.
If you wish to manage a specific message in the history, you can tap and hold on it to bring up options such as edit, forward and delete as well as view details and copy message text.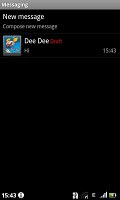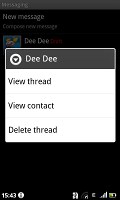 A draft message to Dee Dee • managing a specific message
Upon a new incoming message, your whole messaging history with that person is pushed to the top of the messaging menu, no matter when your last conversation took place.
A press-and-hold in the tap-to-compose area gives you access to functions such as cut, copy and paste. You are free to paste the copied text across applications – including email, notes, chats, etc. .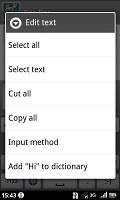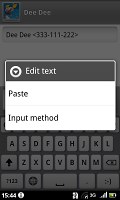 Copy, cut and paste are available
Once you have added any media content to a text message, it is automatically converted into an MMS. You can just add a photo or an audio file to go with the text, or you can choose to go into a full-blown MMS editor if the need arises.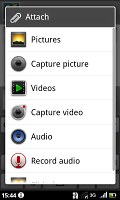 Attaching a file turns the message into MMS
When it comes to the Gmail functionality, we really like the batch operations, which allow multiple emails to be archived, labeled or deleted.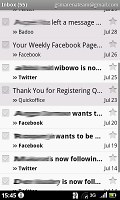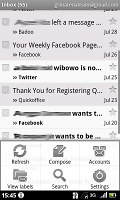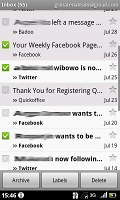 The batch operations are a boost to usability
There is also a generic email app for all your other email accounts and it can handle multiple POP or IMAP inboxes. Sadly, the emails are not displayed in threads like those in Gmail, but you still have access to the messages in the original folders that are created online, side by side with the standard local ones such as inbox, drafts and sent items.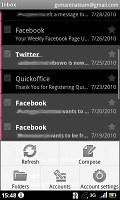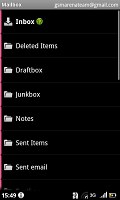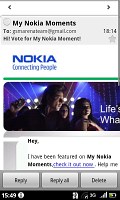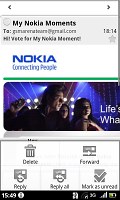 The standard email app in action
And by the way, the folders are organized in a tree structure - one click over a specific folder reveals its contents and the second click closes it.
Google Talk handles the Instant Messaging department. The G-Talk network is compatible with some popular clients like Pidgin, Kopete, iChat and Ovi Contacts.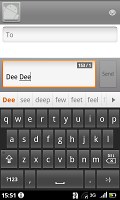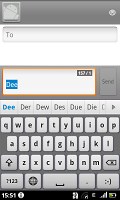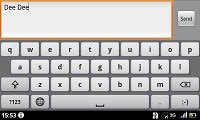 Composing an email with the onscreen keyboard is decently comfortable