Organizer
The Stream comes with the Documents To Go viewer preinstalled, which handles diverse kinds of office documents (including PDF files). The editor comes for a fee, though.
The best thing about it is that the viewer integrates with the Gmail app as well, which makes viewing attachments easy. Unfortunately, you are unable to save them on the phone memory (that only works for images, we guess). Attaching saved files (and we mean all kind of files) is possible though.
At any rate, not having a document viewer out of the box is a disadvantage for a high-end smartphone.
The calendar has four different types of view - agenda, daily, weekly and monthly. Adding a new event is quick and easy, and you can also set an alarm to act as a reminder.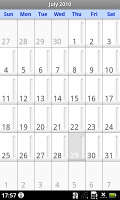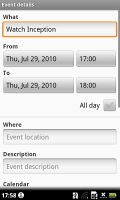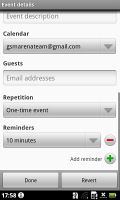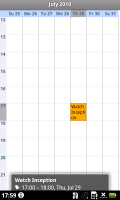 The calendar is well organized • adding a new event is quick and easy
The Calendar is also integrated with the new status bar and offers pop-up notifications.
The Tasks app does what it says: you can easily create and modify a list of tasks.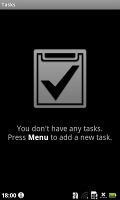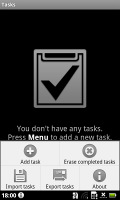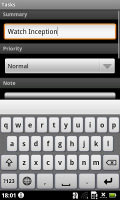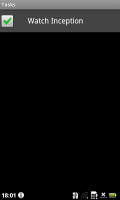 The Tasks application in action
There is also a calculator aboard. It is nicely touch optimized - the buttons are big and comfortable.
The Acer Stream features a decent alarm clock application, which allows a huge number of alarms to be set, each with its own start time and repeat pattern.
The Alarms app has a new Desk Clock mode for use with a desktop dock. It offers the usual stuff – wallpaper with date and time, battery and a few shortcuts to alarms, gallery, player and menu.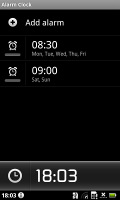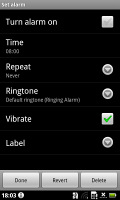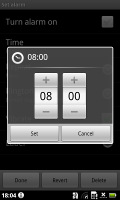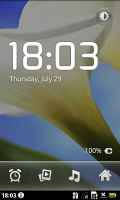 The alarm clock gives a lot of room for customization • Desk Clock
The Stream also comes with a simple Voice Recorder.
A handful of apps
Let's take a look at the set of pre-installed applications on the Acer Stream.
Acer's Media Server app helps you define which type of multimedia (video, photo, and music) will be shared when the device is connected to a Wi-Fi network.
MusicA is a useful music recognition app.
The Barcode scanner needs no explanation.
The Acer Stream also has Facebook and Twitter (Twidroid) clients.
There's also a urFooz app that lets you design your own avatar and chat and exchange photos, videos or bookmarks with friends.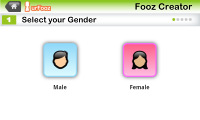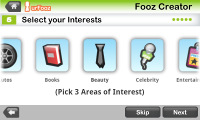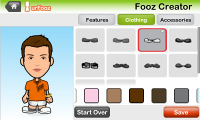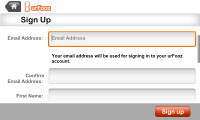 urFooz app
Another app that caught our attention was the media-streaming Spinlets. You can use it to listen to music, browse images or visit your favorite artists' web sites.
Android Market is the place to get even more apps
The number of apps in the market is ever growing and a recent survey showed that it has the highest free-to-paid apps ratio out of all the app stores.
The main screen of the Market shows several featured apps. The Market organizes apps and games into two separate tabs and each tab lists subcategories (e.g. Finance applications, Arcade & Action games). In each category you can select to view the Top free apps or ones that are "Just in".
There's a third tab – Downloads – that keeps track of what you've already downloaded. Do keep an eye on this tab – when updates become available for an app you've installed, a label shows up next to the app name to notify you.
Applications range from pretty silly (including one that simulates a doorbell), through fun (e.g. a virtual guitar) to real must-have's (including task killers, navigation software and more), but that's true for every other app store.